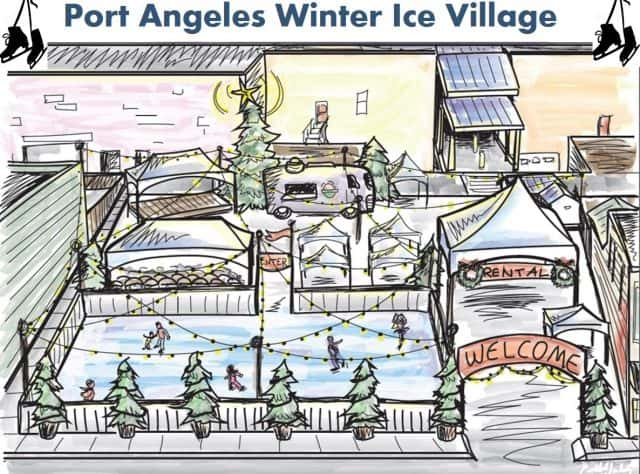 PORT ANGELES – The concept of constructing a community outdoor ice skating rink in downtown Port Angeles has now moved from 'an idea being floated around' to a reality.
The Chamber of Commerce has announced the Port Angeles Winter Ice Village will open the day after Thanksgiving on November 24, and operate 7 days-a-week until January 6. Here's Chamber Director Marc Abshire.
The location of the village will be the large parking lot next to the Station 51 Taphouse on Front Street.
A down-payment of $35,000 has already been sent to a California company that will install the ice rink. Those funds, from revenues raised by the Lodging Tax, were given by the City of Port Angeles. Abshire says that most of the remaining money needed to see the project through will have to come from donations from the public.
To that end, the Chamber is holding a Community Rally this coming Monday at 6:00 PM to present the entire plan to the public, start signing up volunteers to help run the operation on a daily basis, and to kick off the fundraising campaign.
Abshire says the Ice Village project is just the beginning of a much bigger vision for downtown Port Angeles.
The Community Rally is Monday, September 17 at 6:00 in the Council Chambers.