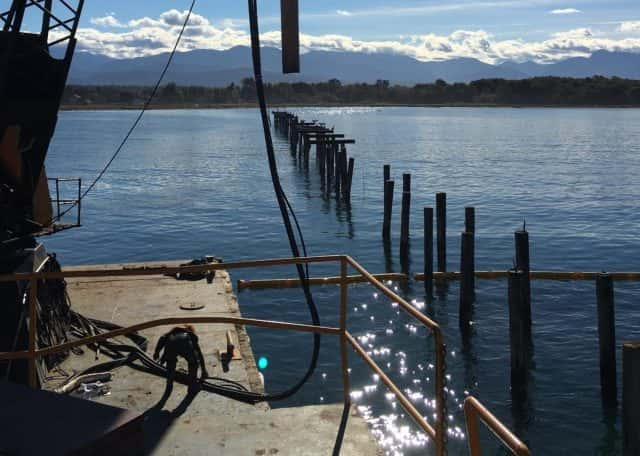 SEQUIM – Anyone driving in the Three Crabs area near Sequim last eek will have noticed a barge offshore pulling pilings from the old pier out of the water. Those pilings have been there since 1891, and once extended the pier three-quarters of a mile into deep water so that dairy farmers could ship their products to Seattle and elsewhere.
The removal of the pilings is part of salmon restoration project at the mouth of the Dungeness River, which is being conducted by the North Olympic Salmon Coalition. Project Manager Kevin Long says the pilings are coming out because they impede the growth of eel grass, which is important to spawning salmon, and because they leach creosote into the water.
The project is being paid for with state and federal grants supporting salmon and estuary restoration.
Long (who, by the way, was speaking to us while floating on his standup paddle board on the job site) says the contractor doing the work is expecting to finish up today (Wednesday), days ahead of schedule.
Long says, for now, this will be the end of the Three Crabs Salmon Restoration Project, as they monitor the recovery of the eel grass.
(Photo coutesy of Kevin Long)