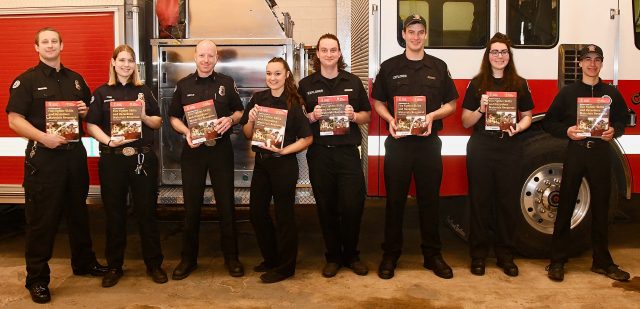 Port Angeles – Clallam 2 Fire Department's Fire & EMS Explorer Scout program received a grant from the Port of Port Angeles of over $2,500 to purchase a set of new student training manuals.
The program, which has been around for about ten years and currently has 14 young adults between the ages of 14-18, is geared toward career opportunities, problem solving, leadership training, character building and more.
And according to Fire Chief Sam Phillips, it involves a lot more than sitting at a desk in front of a training manual.
The grant from the Port, provided under their "Community Partner Program", allowed the fire district to purchase 25 student manuals, which cover all aspects of firefighting and hazardous materials response. The manuals are over 1,500 pages long and can be re-used for years to come.
Is the program successful?
The post meets two Monday evenings monthly at the Dry Creek Fire Station and is generally considered a feeder group for those interested in becoming firefighters, EMTs, or paramedics.