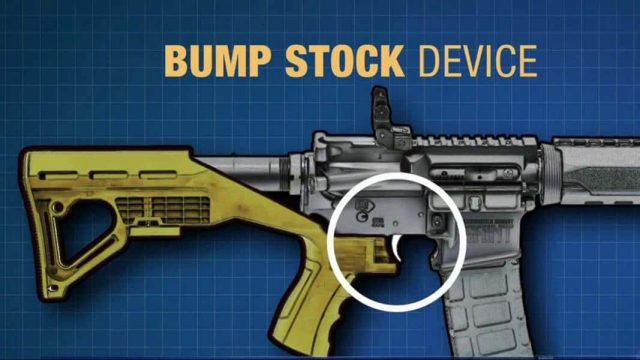 OLYMPIA – Gov. Jay Inslee signed a bill Thursday to fund a buyback program for illegal bump stocks, devices that make semi-automatic rifles fire like machine guns.
State Legislators banned the devices in 2018 and created the buyback program at the same time, but left it unfunded. This money funds the program to pay out $150 per device.
Federal authorities have also instituted a separate, nationwide ban.
The Washington State Patrol announced Thursday it will hold its Bump Stock Buy-Back Program starting Sunday, March 17 and 18, and again Sunday and Monday March 24 and 25.
Unfortunately for Clallam County residents, the nearest State Patrol location for the buyback is Bremerton.
Here's Trooper Chris Loftis:
The federal law banning the devices takes effect on March 26, when the Bureau of Alcohol, Tobacco, Firearms and Explosives will classify bump stock devices as machine guns.
Clallam County Sheriff Bill Benedict says his office is working on the details now.
Update: Deputy Brian King told KONP Friday evening the Sheriff's Office will be accepting bump stocks on weekdays starting Monday, March 18. Participants will get a receipt that can be exchanged for a voucher from the WSP worth $150.
Here's more information from the Washington State Patrol on when and where you can participate and how the buyback works.
Dates and Times
March 17-18, 2019
10:00 AM – 4:00 PM
District 1 – Tacoma – 2502 112th Street East
District 2 – Bellevue – 2803 156th Avenue SE
District 3 – Kennewick – 143302 E Law Lane
District 4 – Spokane – 6403 W Rowand Rd
District 5 – Vancouver – 11018 NE 51st Circle
District 6 – Wenatchee – 2822 Euclid Avenue
District 7 – Marysville – 2700 116th Street NE
District 8 – Hoquiam – 3111 Pacific Avenue
March 24-25, 2019
10:00 AM – 4:00 PM
District 1 – Tacoma – 2502 112th Street East
District 2 – South Seattle – 15666 International Blvd (detachment office)
District 3 – Yakima – 2715 Rudkin Road
District 4 – Spokane – 6403 W Rowand Rd
District 5 – Vancouver – 11018 NE 51st Circle
District 6 – Ellensburg – 291 S Thorp Hwy
District 7 – Marysville – 2700 116th Street NE
District 8 – Bremerton – 4811 Werner Road
Criteria
Individuals must be a Washington resident (an official Washington driver's license and/or identification card is required)
Individuals must have a valid mailing address
There is a limit of five bump stocks per person