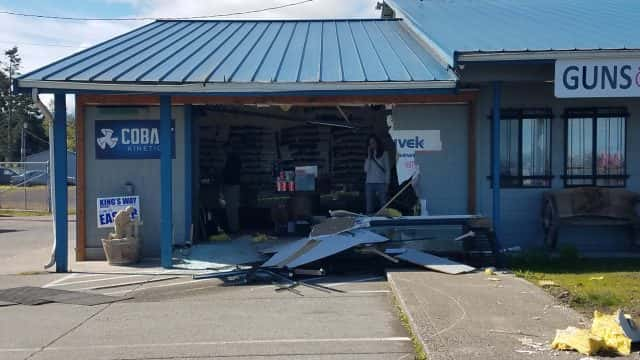 SEQUIM – Fred's Guns, along Highway 101 near Sequim, was the scene of a heavy-handed burglary Saturday night at about 11:30 when someone drove a stolen piece of heavy machinery through the front security door and stole an undetermined number of firearms and ammunition.
While the Bureau of Alcohol, Tobacco, Firearms and Explosives (ATF) has taken over the investigation, Detective Sgt. Eric Munger from the Clallam County Sheriff's Office told KONP that it appears a lone thief was involved, demolishing not only the entryway, but causing significant damage to the building itself.
A large, telescoping loader was stolen from Leitz Farms hay yard, across the highway from Fred's and about a half-mile west, and was later found on Cassidy Creek Road about two miles from the gun shop.
Leitz Farm Supply owner Ed Leitz says that machine is nothing like an ordinary forklift, and doesn't operate like one.
Leitz says the thief caused tens of thousands of dollars damage to the machine.
Det. Sgt. Munger said, as of late Monday morning, a full inventory had not yet been completed, but he said so far the number of guns stolen may be two or three dozen.
The A.T.F. is reviewing security video footage and other evidence, including blood evidence thought to be from the thief, and are also seeking information from the public in their investigation.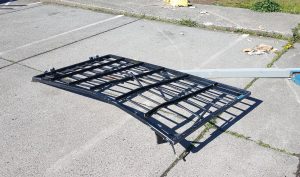 (An iron security door lies outside Fred's Guns.)