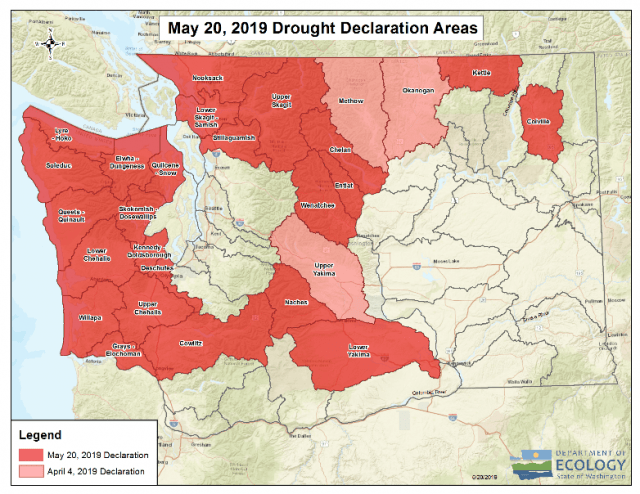 OLYMPIA – Water supply conditions are looking bleak for our area and most of western Washington in general this summer, leading Gov. Jay Inslee to expand the drought emergency declaration to cover nearly half of Washington state Monday.
Snow pack conditions are currently less than 50 percent of average for this time of year. Washington State Department of Ecology experts expect the warmer, drier weather will cause the already-diminished snow pack to melt more quickly, reducing water availability this summer when it is needed most for farms, communities and fish. Despite this past week's rain, rainfall totals for the state remain below normal.
Curtis Riganti from the National Drought Mitigation Center released his report that lists Port Angeles and Sequim as being inside a zone tagged "Abnormally Dry" for Springtime (see graphic below), and the National Weather Service is predicting that our Summer will be abnormally warm and dry as well.
The Elwha/Dungeness watersheds are listed among 23 others in the state that have been added to the emergency drought declaration. They Include:
Chelan, Colville, Cowlitz, Deschutes, Entiat, Grays-Elochoman, Kennedy-Goldsborough, Kettle, Lower Chehalis, Lower Skagit-Samish, Lower Yakima, Lyre-Hoko, Naches, Nooksack, Queets-Quinault, Quilcene-Snow, Skokomish-Dosewallips, Soleduc, Stillaguamish, Upper Chehalis, Upper Skagit, Wenatchee, and Willapa.
The 2019 Legislature appropriated $2 million for drought response, which will be available in early June. Grants will be issued for emergency drought response projects such as:
Obtaining emergency water supplies, which could include construction of wells, moving the water withdrawal location, or even trucking in drinking water. Grants could also be issued to pay for implementing conservation programs or purchasing equipment which reduces water use.
There are two factors considered for any emergency drought declaration: Water supply conditions that are currently or projected to be at or below 75 percent of average, and a projection of undue hardships. The state last declared a drought emergency in 2015.