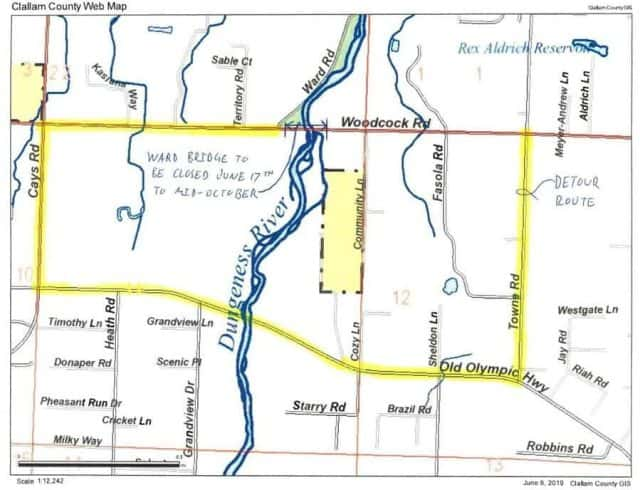 CLALLAM COUNTY – The Clallam County Roads Division will be closing a section of Woodcock Road for 4 months this summer to shore up the bridge over the Dungeness River.
From June 17 to mid-October, drivers will detour on Cays Road down to Old Olympic, then reconnect to Woodcock at Towne Road.
Project Engineer Pat McElroy explains the need for repairs on the bridge.
"The piers for the current bridge were built in the '30s, but there's potential for the river to remove the gravel from underneath them and then that bridge could catastrophically fail. So for this project, we're going to have to move the river to you know, one side and then excavate in the area we've de-watered to the bottom of the piers, and then put basically large boulders and that will keep the gravel from scouring below. Then we'll put the stream channel back on top. So when we're done, you won't even see that we've been in there, and while we have the road closed we're going to put in some new approach slabs up on top, and then we're going to redo the whole bridge deck. So that takes a bit of time also. Some new railing…some new guardrail."
The County has hired Bruch and Bruch to do the work. McElroy says they've been planning this for years and crews are eager to get started. The only holdup at this point…they're waiting on fish.
"To get access in is very difficult. We have to build some roadways to get down into the river. But now we're just waiting for our fish window. That's when we can go in and work, when there's less fish present, June 15th to August 15th. So they're going to go and start June 17th. They're going to start building all the access way in here. There's a lot of construction just to get to the river where you can get heavy equipment and trucks in."
Below: Two of the bridge piers in jeopardy. Photos courtesy of Pat McElroy.