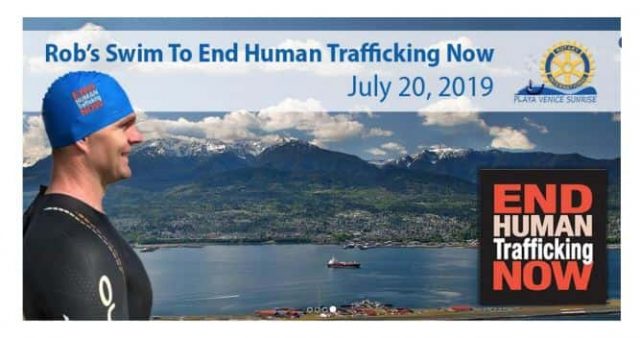 PORT ANGELES – Port Angeles native Rob DeCou is about to attempt something that only 13 people have ever accomplished: swimming 18 miles across the Strait of Juan Fuca, and he's doing it for a good cause.
On Saturday, July 20, weather permitting, DeCou will step into the water along Dungeness Spit and begin what will surely be a punishing feat of endurance. If the tide, wind and his mind and body cooperate, he expects to make landfall in Victoria some 13 to 16 hours later.
DeCou is swimming to raise awareness to help end human trafficking. It will be first attempt at the crossing, but he's no stranger to ultra-endurance sports. In 2016, DeCou partnered with 3000 Miles to a Cure and finished the Race Across America to help find a cure for brain cancer.
In 2017, he completed what is known as the "World's Toughest Foot Race" — 146 miles on foot from the lowest point in the contiguous U.S. in Death Valley to the highest point at the summit of Mt. Whitney in California. DeCou's efforts raised nearly $700,000 to help end polio.
The 37-year-old is a former instructor at Peninsula College and now lives in Los Angeles working for a film and animation studio. His previous endurance tests have been foot and bicycle races, but he's been training hard with ocean swims for a year or so, including a swim from Alcatraz to San Francisco.
He's also consulted with some of those who have successfully crossed the Strait.
"Yes, the biggest support system for this one was by the two Canadian swimmers that successfully did it two years ago because Jill Yoneda and Susan Simmons, so I was able to keep in touch with them over the last year, and then about a month ago, I went up with Jack to Victoria. We got to sit down with them for a few hours and pick their brains. They help me select the three best tide windows, and then also like, the "go no-go" decisions. So for a crossing like this the conditions have to be almost perfect. So if we have more than like a 10 mile an hour wind or 10 knot wind, we just push it to a different date, just because it's not safe for the boat or the swimmer to be in the water. You kind of have to have all these elements come together."
Contributions can be made by contacting your local Rotary club and making a donation towards your community's human trafficking prevention groups.
Click here to learn more about the swim and how you can get involved in helping DeCou reach his goal.