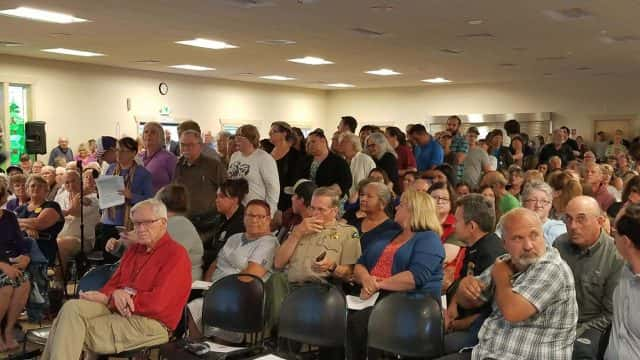 SEQUIM – At Thursday evening's MAT clinic meeting presented by the Jamestown S'Klallam Tribe, some 700-800 people squeezed into Guy Cole Center in Sequim, with a hundred more seated outside to listen to the proceedings broadcast over speakers.
Opponents of the proposed clinic were matched in number by supporters, but a solid law enforcement presence and the decision to start the proceedings with a prayer calling for civility contributed to easing tensions in the room.
Overall, attendees consistently applauded for statements they agreed with and refrained from booing and shouting down others, as has happened at other recent meetings on the topic.
The tribe plans the clinic on 20 acres it owns near the Sequim Costco.  Officials say it will offer medically assisted treatment for opioid addiction with "wrap-around" services such as counseling, child care and job coaching.  A second phase would include mental health care. Olympic Medical Center, Jefferson Healthcare and Peninsula Behavioral Health are partnering with the tribe on the project.
After representatives from the Tribe, Olympic Medical Center, Jefferson Healthcare Center and others presented their cases for the need for a centralized MAT clinic, attendees were asked to form two lines, pro and con, to give statements and ask questions. The lines for both sides were equal in length for the next two hours.
Pro and con opinions were expressed in an alternating fashion. We've put together a few of the highlights.
"Hi. My name is Jody Wilke. Although I don't come from Sequim, I do have connections to the Sequim area. And I wish I had more than two minutes because I have three pages of rebuttals to the statements that you gentlemen have made up there, which includes inaccurate information according to our research. So if we can't be allowed in this public discussions today outside of our two to three minutes snippets of information, then we ask that the city provides us an opportunity to do so."
"My name is Kyle Johnson. I'm a former infantry officer in the United States Marine Corps. I'm also the son of a nurse, of an educated woman who was homeless for a short time because they didn't have access to the services that they needed to get off pain medication from a doctor who kept over and over and over prescribing. And it wasn't until she actually found the services of a methadone clinic that she was able to to get clean. Whenever people make decisions based off of fear, or they choose not to err on the side of compassion, it's not good for the community, and good things don't happen. Sequim is better than that."
"What if things don't work out as planned? What if we start seeing people living on the streets, committing crimes? We asked the Sequim Police Department what they would do if there were homeless people and they said 'We won't do anything because there's no laws against being homeless.' And we don't want tent cities in Sequim."
"Hi. My name is Dr. Linsey Monaghan. I am not here as a physician tonight. I'm here with some credentials that, I'm going to guess, nobody else here has. When I lived in Missourri,  I live next door to a methadone clinic for four straight years. When I moved to Seattle, I lived two blocks away from one of the main downtown Seattle methadone clinics. I used to walk past that clinic at 3 a.m, by myself, after delivering a baby going home. I have literally zero stories to tell you. Nothing happened. I was never afraid. Nothing ever happened!"
Organizers said they'd review the taped comments and publish a public response to questions and concerns.
Staff photo. Attendees line up to speak at Thursday's MAT meeting.