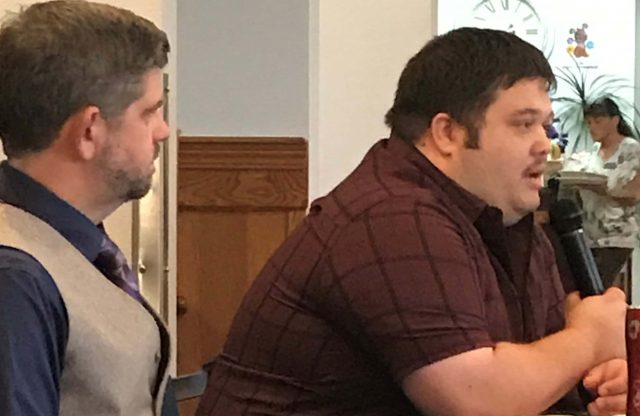 PORT ANGELES – A proposed medical assisted treatment clinic for opioid addiction in Sequim dominated a forum between candidates for east-end Clallam County commissioner.
Incumbent Democrat Mark Ozias and Republican challenger Brandon Janisse spoke before the Port Angeles Business Association Tuesday.
Ozias took issue with a group called "Save Our Sequim" and its challenge of the Jamsestown S'Klallam's plans for 20 acres it owns south of Costco in Sequim. Ozias brought a mailer sent by the group to Sequim-area residents
"I was upset because I thought that this group was dividing my community. It's causing so much heartbreak in Sequim, I can barely stand it. The propaganda that is being promulgated by Save Our Sequim, and for those of you who haven't seen this mailer, it is propaganda. It has lies on the front. On the back, it has information that's quoting a statistic that relates to meth addiction, which has nothing to do with opioid addiction or the treatment of opioid use disorder."
Ozias also challenged Janisse, who is currently a Sequim city councilmember, on his support for a moratorium that would have temporarily stopped the clinic as well as other development in economic opportunity zones in Sequim. The moratorium failed 3-4 Monday night.
Janisse countered he is not against treatment facilities, but says there needs to be an analysis of the concerns about the location.
"The issue that was addressed last night in terms of the moratorium that was proposed with addressing assistance in concern of the actual process of the MAT clinic. Not the fact of the MAT clinic itself.  I wholly support, 100%, a MAT clinic idea of helping the opioid crisis in this county, but the fact that you have thousands of people that said they have no idea, that they've never heard about the MAT clinic process up until was posted in the paper, is really what it boils down to. I, like I said, hundred percent support the MAT clinic, but I still have to support and listen to all those constituents that do have an issue. I'm still a public servant that has to address that."
During an hour-long forum, the two candidates also fielded questions about economic development and housing.
Janisse says housing is one of the most important issues he'd tackle if elected.
"One of the things that came up during our housing study in Sequim was basically the city would own the land but rent it to, for like say a 99 years, like a land trust type thing, would lend it to developers. That way, because the biggest cost I think in building housing has to be the land purchase itself. So if you can take that out of the equation and allow developers to come in on and say I said a 99-year lease to develop that as affordable housing, as workforce housing, that might be an avenue."
Ozias touted his efforts during his first term to coordinate diverse groups to tackle issues.
"And to make progress on housing in this county we've taken a variety of approaches, and the county has an amazing group of volunteers, engaged citizens that advise us on housing and homelessness issues. So one approach that we are taking is to look at all of the different programming that's going on out in the community and pushing to understand some metrics, what's working and what's not working, so that we can make more intelligent decisions.
Only voters in the east end of the county will cast votes in that race this fall.
Staff photo, left to right: Ozias and Janisse.