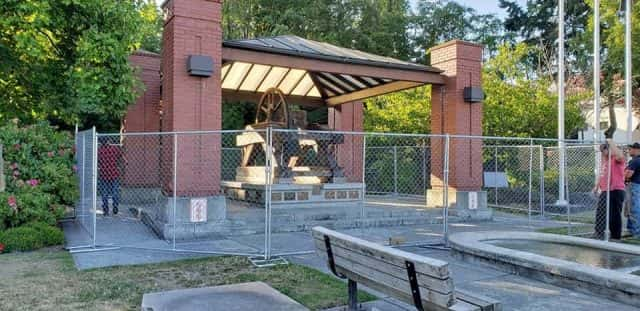 PORT ANGELES – The project to build a security fence around the Liberty Bell in Veterans Park in downtown Port Angeles got under way this morning with the installation of temporary chain link fencing around the area.
Former mayor and project organizer Karen Rogers says the permanent ornamental iron fencing has been delivered and workers will begin installing it in the next couple of days.
"Yes, the design team will be here and they've also been the ones that have assembled and manufactured it and it's going to be beautiful. And then the fencing will require painting on site to finish the finish on it. So it's a good couple of week's project."
The city's parks commission approved installation of the protective fence in May after years of complaints about loitering, vandalism and other damage in the park. Parks Director Corey Delikat says the bell is an asset worth about 70-thousand dollars, and the fence is a move to protect a city asset it can't afford to replace. The fence will include a locking gate that will be opened for the monthly Veteran's ceremony at the park.
The fence has been paid for by a grassroots effort to raise donations of around $15,000. Rogers says a new group is forming called "Friends of the Liberty Bell" to maintain the structure. Rogers broke some other news as well.
"So the other exciting piece to the project is, once the permanent fencing is in place, there will be lights installed to light up the Liberty Bell at night. There will be a security camera on, it's getting taken care of and, most importantly, we've got a generous donor who's come forward and pledged the money necessary to completely restore the Liberty Bell and its entire structure. And that work will get done once the permanent fencing is in place."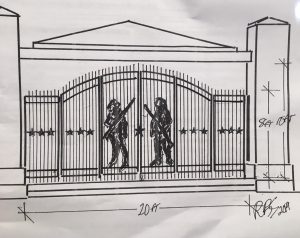 Above: Designer's drawing of gate to be installed on Liberty Bell structure.
Drawing and banner photo courtesy of Karen Rogers.