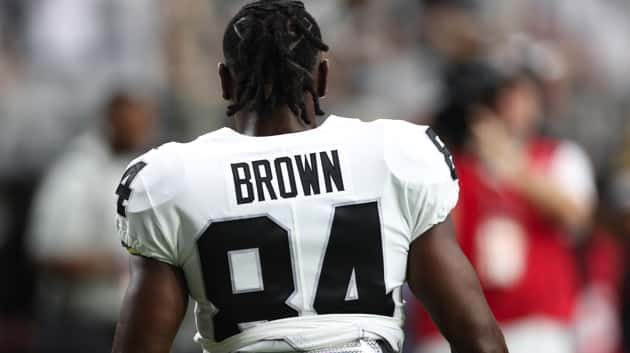 Allen Kee / ESPN Images(NEW YORK) — Nine years ago, as the Pittsburgh Steelers opened training camp for the 2010 season, head coach Mike Tomlin assessed the future of sixth-round pick Antonio Brown and Brown's fellow rookie receivers.
"The pedigree stands out," Tomlin told the Pittsburgh Post-Gazette. "They show maturity in terms of catching the football and gaining separation … but they still got miles to go. They're rookies. But I like what they're doing."
Now, nine years later, Brown has separated himself from his rookie class — and the rest of the NFL — by fashioning the most prolific six-year stretch for a receiver in NFL history, topping 100 receptions and 1,200 yards receiving in each of the past six seasons.
But Brown's on-field accomplishments have been accompanied by off-field drama so unrelenting that it's had some fans checking their newsfeeds on an hourly basis.

Here's a timeline of recent events surrounding the All-Pro wideout:
JAN. 15, 2017: In the Steelers' locker room after the team's 18-16 playoff win over the Kansas City Chiefs, Brown secretly streams the team's post-game celebration on Facebook Live, including Tomlin's post-game remarks about the Steelers' next opponent, the New England Patriots. Brown is fined for his violation of the NFL's social media policy.
OCT. 9, 2018: Brown faces a pair of lawsuits for an April incident in which he allegedly damaged his leased South Florida apartment and threw items off his balcony that nearly struck a 2-year-old boy.
NOV. 8, 2018: Brown is ticketed for driving more than 100 mph on a suburban Pittsburgh road with a speed limit of 45 mph, after police pull over his black Porsche sports car at 10 in the morning.
DEC. 16, 2018: At a team practice in the week leading up to the Steelers' regular-season finale against the Cincinnati Bengals, Brown gets into dispute with quarterback Ben Roethlisberger, according to multiple media reports. Brown then skips the week's remaining practices, leading the team to deactivate him for that Sunday's game.
FEB. 12, 2019: In a Twitter post, Brown thanks Steelers fans for the last nine years but says that it's "time to move on," spurring the team to investigate trading the elite receiver, who still has three years left on his contract.
Thank you SteelerNation for a big 9 years…time to move on and forward……….✌