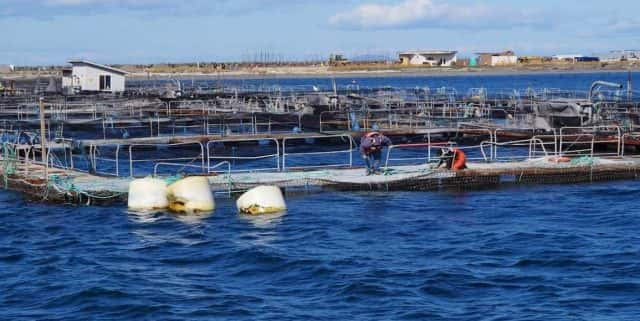 PORT ANGELES – The Jamestown S'Klallam Tribe and Cooke Aquaculture have announced their intention to reopen the net pen facility in Port Angeles Harbor to raise black cod and steelhead from biologically-engineered rainbow trout.
A news release from the tribe says they hope to have the project up and running before year's end, despite the lack of a lease from the state Department of Natural Resources, an ongoing lawsuit between the DNR and Cooke following the collapse of its Cypress Island farm in 2017 which released 300,000 atlantic salmon into the local fishery, and Governor Inslee's subsequent moratorium on any new net pen leases.
DNR spokesman Joe Smillie says he's seen the Tribe's news release, but his agency has not yet heard from either party regarding the project. The DNR would ultimately make the decision as to whether to issue a lease. We asked him to give us a brief description of the application process.
"So typically we start out with a JARPA with the prospective tenant. It's a Joint…I can't remember what the acronym stands for off the top of my head. But anyhow,  it basically lays out the permits that are necessary to get from other agencies, whether it's the Corps of Engineers, Department of Ecology, Fish and Wildlife, all the pertinent agencies that have a stake in the proposal. And then we go down over that and discuss terms."
A JARPA is a Joint Aquatic Resource Permit Application.
Jamestown S'Klallam CEO Ron Allen says the tribe will be submitting their permit applications as soon as possible. We asked if he thought the current lawsuit with the DNR might be a deterrent to getting approval for a new venture.
"You know the lawsuit between Cooke and DNR is on a separate track. This is a new venture between Cooke and Jamestown because of we're going to be farming natural stocks up here. So it's a different ball game. It's not atlantic salmon that people are worried about. We wanted to be assured that we were going to use the latest, greatest state-of-the-art stuff, and part of our commitment to each other is that that we were going to be upgrading the equipment that we're going to be using. And we're actually even negotiating on how we would be able to process the product here in Port Angeles so that we create more jobs."
Besides the DNR lawsuit, Cooke Aquaculture is being sued by Wild Fish Conservancy Northwest under the Clean Water Act. That suit seeks to halt any further leases, listing multiple issues including site pollution, insufficient infrastructure, the potential spread of disease to native fish, and potential impacts should the farmed fish ever escape.
Cooke's lease in Port Angeles was not renewed last year, although they were permitted to finish raising the atlantic salmon they already had, which were harvested in early spring of this year.
Along with raising black cod, also known as sablefish, the plan is to raise sterile triploid, all-female rainbow trout, the same species as steelhead, that would mature and be ready for harvest in approximately 18 months.