PORT ANGELES – The Sheriff's Office reports that PA Power in Port Angeles was robbed Monday morning, but exactly what was taken is still being assessed.
Surveillance video shows someone backing up a pickup truck to the front of the business around 6:00am and a second suspect attaching a tow rope to the security doors. The driver then pulled ahead and tore the doors completely off their frames, setting off a burglar alarm.
Deputies and police officers arrived minutes later and together searched the building, finding no one inside or out.
The investigation is ongoing, but video-surveillance shows that the truck fled the scene south on Brooke Avenue and then turned east on Avis Street.
Items stolen from the business are still being determined.
Anyone with information on those responsible for the burglary are asked to call Sheriff's Dispatch at 360-417-2459. Anonymous tips can be left on the Sheriff's website at: http://www.clallam.net/sheriff/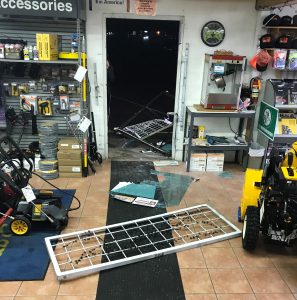 (Sheriff's Office photos)