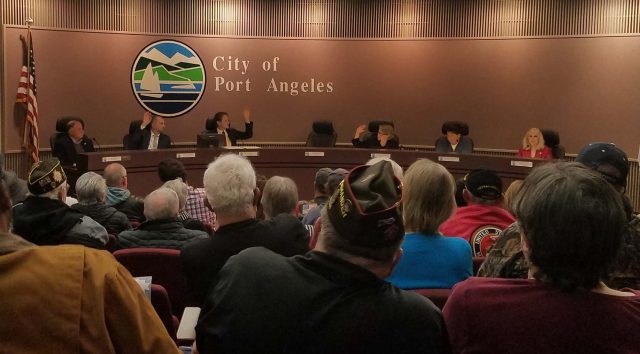 PORT ANGELES – Despite the fact that Port Angeles Mayor Sissi Bruch's proposal to remove military artwork from the fencing at Veterans Park was taken off the City Council agenda, little else was spoken about for the first two hours of Wednesday night's meeting.
The meeting began with about 90 minutes of remarks from the public, remarks which were almost exclusively in favor of leaving the fence as it is.
Immediately following the comment period, councilmember Cherie Kidd made a motion to remove the title of Mayor from Bruch.
"We need to restore confidence in our Council. This motion tonight is putting us back on the track that you helped start yesterday by removing the offensive memo. And we need to get back on track without the controversial leadership that she has…she's created this firestorm and it's damaged all of us. So it's time to remove the title."
Councilmember Jim Moran seconded the motion and Mayor Bruch recused herself from the discussion by retiring to another room, leaving Deputy Mayor Kate Dexter to lead the proceedings as the council discussed the motion ahead of taking a vote.
We approached the Mayor, who appeared a bit shaken following a comment period that included more than a few personal attacks, and asked if she would like to make a statement about the evening's proceedings so far. This was all she wished to offer on the record:
"I am very grateful that everybody allowed everybody's voice to be heard. Everybody was very civil. We had some very good comments that were made very thoughtfully."
The council's discussion on the motion lasted about 40 minutes before going to a vote, which ended in a 3-3 tie, meaning no action could be taken. Voting in favor of removing the title of Mayor from Bruch were Kidd, Moran and Michael Merideth.
Councilmembers Mike French, Lindsey Schromen-Wawrin and Dexter vote against the motion.
Staff photo: Councilmembers French, Schromen-Wawrin and Dexter vote against motion to remove title from Mayor Bruch.