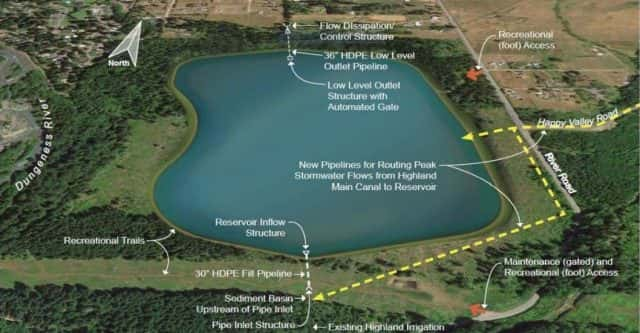 PORT ANGELES – In the entire Puget Sound region, every county except two has established a Conservation Futures program, which provides a revenue stream used to acquire land for public use or enjoyment. Those two counties are Mason and Clallam. But that may soon change.
On Tuesday, November 12th at the County Courthouse, County Commissioners will hold a public hearing to consider a Conservation Futures draft ordinance. Their intent is for Clallam County to enact a small tax (2.75 cents per $1,000 dollar assessed value) that will create $250,000 per year dedicated to local conservation. In the initial years, Commissioners intend to direct the funds toward farmland preservation.
When it comes to acquiring real estate, a quarter million dollars per year isn't what it used to be, but County Commissioner Mark Ozias says there's a lot more to it than that.
"The way that they're generally utilized is as a way to help match other funding. For example, in Jefferson County, just in terms of matched dollars, that their history has been, for every dollar that's been raised through their Conservation Futures program, they've brought over four dollars of state and federal funds back into the community. And that doesn't account for any of the economic development, job infrastructure, related ripple effects, just, you know, just straight match.
To an average homeowner in Clallam County, the proposed tax would amount to about $7 per year.
Besides farmland preservation, conservation futures funds could be used to acquire open space land, timberland, public access to water, and more.
It would allow municipalities like the city of Forks for example, if they had a project that could benefit from some conservation futures dollars, they would be eligible to apply. You know, it could be organizations like the Land Trust. It could potentially be individual farmers or business owners. It might also be able to bring to bear on projects like the Dungeness off-channel reservoir. We're going to be going out looking for a lot of state and federal funding to complete that project, and in order to be competitive, we need to be able to describe what kind of match we're going to be able to put up. You know, what are we doing locally to fund this project, if were asking others to fund it for us?
The public meeting is coming up on Tuesday, November 12 at 10:30am in the courthouse in Port Angeles.
To get an advance look at the draft ordinance, click here.
(Banner graphic: Proposed off-channel reservoir)