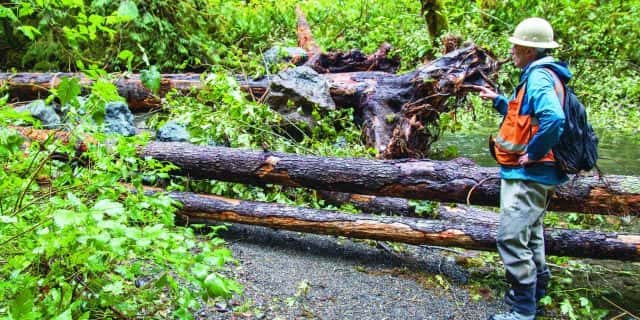 CLALLAM COUNTY – Although the removal of the two Elwha River dams in 2013 got world-wide attention as the biggest-ever project of its kind and a major step forward in restoring northwest salmon habitats, it's worth repeating that salmon restoration efforts in the Elwha watershed were in play long before the dams came down and will likely continue for a very long time.
The Lower Elwha Klallam Tribe has been leading the way on the North Olympic Peninsula, and this Summer and Fall the work went on in earnest along two important but less talked-about waterways.
The Tribe used nearly 2 million pounds of logs and rocks this summer, much of it by helicopter, to improve habitat in Little River, a tributary to the Elwha, and Deep Creek, which drains into the strait west of Port Angeles.
We asked Mike McHenry, the Lower Elwha Klallam Tribe's Habitat Program Manager, if he's encouraged by what he's seen so far in terms of restoration and fish returns.
"Super encouraged. Indian Creek in particular, where we've done, really no restoration activities at all. We think Indian Creek's pretty intact. On Deep Creek, we're seeing really good results in terms of the habitat. We've been at it longer there. On Little River, we don't know yet. The project just went in. We really haven't had any rainfall to speak of, which is what we need to change the habitat conditions in there. We got to get the flows up and running. But typically the response is the first winter, if we have significant flows. And in this part of the world, we have significant flows every winter, so we won't have to wait long."
Using a helicopter, logs and rocks were airlifted and set into place in Little River and Deep Creek to control water flow, creating pools and rebuilding gravel beds for spawning salmon and other fish.
Next year, the tribe plans to work on private properties downstream along Little River.
Photo courtesy of Tiffany Royal of NW Indian Fisheries Commission: Mike McHenry inspects some of the logs and rocks installed in Little River.