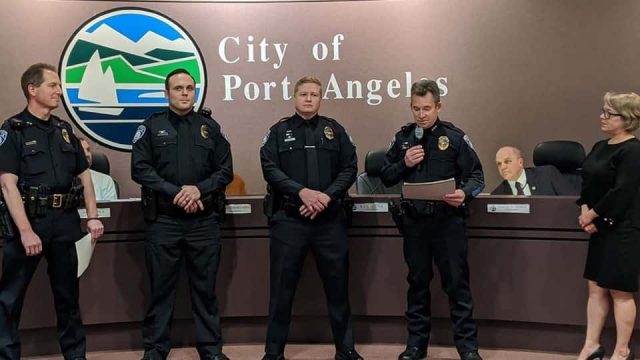 PORT ANGELES – Two Port Angeles police officers were awarded Life Saver Medals at Tuesday night's City Council meeting.
Police Chief Brian Smith presented the medals to officers Kyle Cooper and Eric Walker for their response to an incident involving the report of a suicidal woman last November. Cooper and Walker arrived at the woman's house and, getting no answer to their knocking, took the initiative to kick in the front door and a locked bedroom door to find the woman bleeding to death in a bathtub.
"The officers immediately attempted to revive her, you know, began resuscitation, and eventually turned her over to Port Angeles Fire Department paramedics. So due to the professional, aggressive, courageous and compassionate actions of Officer Cooper and officer Eric Walker, a human life was saved, and they're hereby awarded the Life Saving Medal."
Deputy Police Chief Jason Viada also weighed in at the ceremony, pointing out that this was Walker's second Life Saver Medal. The other came after an incident, also in November, involving a woman threatening suicide near the west end of 10th Street known as "the end of the world". She was threatening to run off the cliff and was armed with a handgun.
Viada said that after about five minutes of negotiation, Officer Walker convinced the woman to toss the weapon away and back away from the ledge.
"Normally, we give about 50 medals away a year at a quiet ceremony, with mostly members of the police department and we don't do this always it city council. But sometimes we do, and this time we are, because Officer Walker is going to miss our medal ceremony later this year. The reason he's going to miss that ceremony is because Officer Walker is also a Captain in the United States Army. He's deploying, like now, for the Middle East, and we are going to miss him. Godspeed, brother."
PAPD photo, left to right: Viada, Walker, Cooper, Smith and Mayor Kate Dexter.