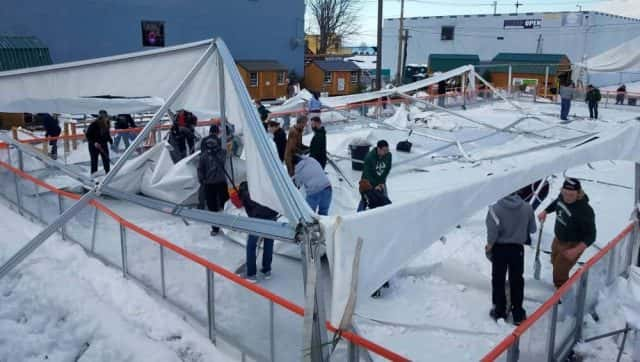 PORT ANGELES – Some 50 volunteers worked all day to clean up the mess at the Winter Ice Village following Tuesday night's snowstorm.
This afternoon, Chamber of Commerce Director Marc Abshire called in with this message for skaters.
Hey Pepper. I'm calling you from the Winter Ice Village. I'm on the ice right now flooding it with water because we're going to see if we get this thing open tomorrow morning. We'll know probably a little bit better later tonight. We'll be flooding it again a second time and running the Zamboni on it and stuff, and also in the morning but… so we don't know a hundred percent right now, but it's looking pretty good, actually. So we'll see."
The 5000 square-foot structure, owned by the Jamestown S'Klallam Tribe and loaned to the Chamber, appears to be a total loss, with the aluminum beams and supports twisted and bent and the canvass torn to shreds.
Abshire says the structure was insured but he isn't sure exactly what will be covered. He says the tent was rated for a snow load that would have been okay if we'd seen the snow that was forecasted, but the 18 inches we got Tuesday night was obviously too much.
We asked him if he was planning to reschedule the Volunteer Party.
"The volunteers party was supposed to be this evening at 5:00. That's not going to happen tonight. But we're going to reschedule it. We haven't had time to figure out when we're going to do that or how we're going to do that but we definitely want to do something to thank all the hundreds of volunteers that helped us make the Winter Ice Village happen this year."
Abshire says if he can get the ice in good shape and open over the weekend, the plan is still to close at the end of the day on Monday.