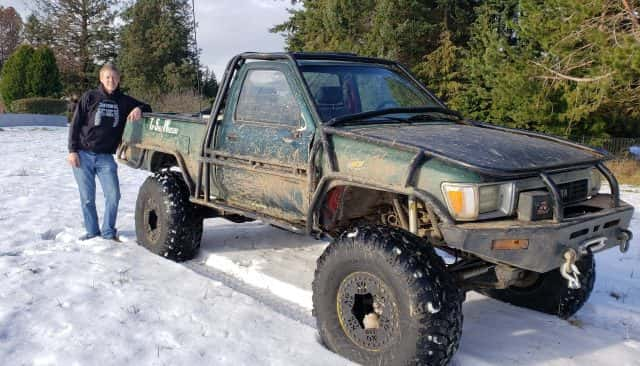 CLALLAM COUNTY – Thursday's rescue of three people stranded for more than 24 hours in deep snow in the hills south of Sequim was not performed by the usual search-and-rescue teams in our area.
It happened thanks to a group of off-road driving enthusiasts that call themselves The Top Shelf Wheelers.
The first man on the scene yesterday was Fred Patton, a contractor from Sequim.
"So I got the call at about 6:30 yesterday morning and started getting ready. We got to Quilcene and got on Lords Lake Loop Road at about 11 a.m. And we got back down to the highway at about 5 p.m. So is about a six-hour pavement-to-pavement adventure."
This wasn't the first rescue Patton has been involved in, but he says it was certainly the diciest.
"This is definitely the most dangerous one I've been on, Last year we did do quite a few rescues up Deer Park as high as we could go, pushing through three feet of snow up there also, getting to people to bring them propane and food and stuff like that. But nothing that was, you know, on super narrow roads with a very long drop on the side. So, definitely the most risky rescue that that I've done."
And what did he find when he got to the stranded motorists?
"They had a half a tank of fuel left when they got stuck, so they did have fuel to keep the vehicle running, and they actually had a butane or propane torch with them, a little mini bottle torch, and so they were actually able to get a small fire going right in front of their vehicle to help kind of keep them warm and they actually did have a little bit of food with them, luckily."
Patton says he and his friends can get their trucks where others fear to tread because they invest in better tires, axles and drivelines than most people.
"We are constantly upgrading whatever it is that we need to upgrade to be able to go play on off-road trails and stuff like that. And so no, I actually was all for it when they told me there was three feet of snow. I said,'Let's do it'."
Patton says that getting back down the mountain took a lot longer than getting up because many of the drivers who responded to the call for help themselves got stuck because they didn't have the proper equipment or experience to attempt this kind of rescue. He said he and his friends had to tow, push and winch those trucks out of trouble in order to get everyone down the mountain safely. He hopes others will think twice before volunteering in the future.
You can learn more about the Top Shelf Wheelers on their Facebook page.
(Fred Patton photo)