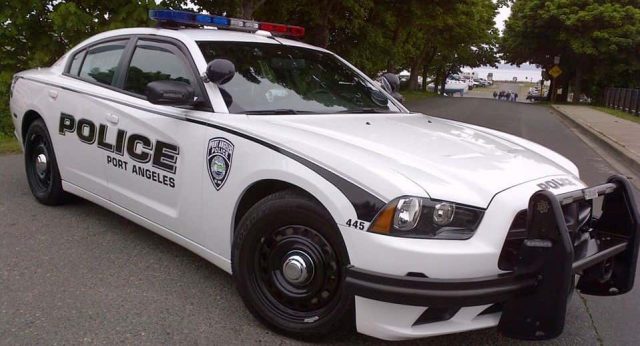 PORT ANGELES – We reported last week on the latest report from the National Council for Home Safety and Security that ranked Port Angeles 46th out of 73 cities in Washington state.
The ranking is based on crime data from the FBI's Uniform Crime Reporting tool. That data is turned in annually by the police departments in each city, but some of the numbers used in the report appear to have been misinterpreted in the case of Port Angeles, and we thought it was worth a follow-up.
The most glaring mistake in the report was the claim that Port Angeles has 2.85 "law enforcement per 1000 residents", but as Police Chief Brain Smith points out, that number is misleading.
"Nobody uses a "law enforcement personnel per thousand people" number. It's not a number that has any meaning for what we're talking about. Police departments have sworn officers and they have non-sworn officers, which will be record staff and administrative staff, and then in a few instances, Port Angeles is one of them, we also have 9-1-1 Dispatchers. And out of our 62 employees that we have currently, we have 23 of those people are with the 9-1-1 Dispatch Center. So when you're counting "law enforcement per thousand", the standard number, the best practices, you count sworn officers per thousand residents, and the gold standard in the US for municipal policing is to have two per thousand. We've been very consistent at about 1.6 for a long time. That's 32 sworn officers. And you have to do apples-to-apples comparison I guess is my point."
Port Angeles, with a population of just under 20,000, had 106 violent crimes and 823 property crimes in 2018. That put our crime rate per 1,000 residents at 46-and-a-half. The state average is about 34-and-a-half.
But local law enforcement has a lot to be proud of. The ratio of cases referred to the Prosecutor's Office that result in charges is way up in the last 5 years, a credit to better law enforcement efforts.
Maybe the most important question to ask is: Do you feel safe? It's true that property crimes are high here and statewide, and the opioid crisis is a big reason for that. Those crimes are usually committed by someone we don't know. That's not true, however, of violent crime.
"If you take violent crime, the opposite is true. The majority of our crimes against children, our sex-based crimes, our violent crimes, we find a relationship between the offender and the victim. It doesn't make those crimes any less awful but it changes, you know, how you view them. If you're concerned about your, say, your own safety and you're out in, say, a public area, knowing that the vast majority of violent crimes here in Clallam County are crimes amongst people that have relationships, it changes possibly how you feel about the world around you. And when the Sheriff and I say that the area's, you know, safe when you're out and about, I mean, that's true. Because our numbers of stranger crime are very, very low."
The Washington Association of Sheriff's and Police Chiefs publishes their an annual report on their own data, and has on its webpage a publication called "Crime In Washington". All the data from law enforcement agencies that is eventually sent to the FBI goes into this publication. A link to the 2018 report is below.