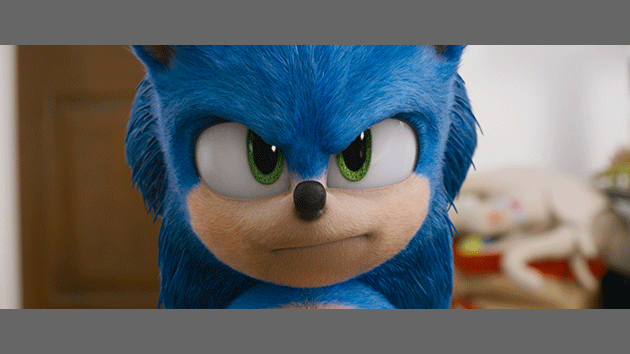 Paramount Pictures and Sega of America(NEW YORK) — Sonic the Hedgehog got off to a fast start, racing to an estimated $57 million between Friday and Sunday — the largest three-day opening weekend ever for a video game adaptation. The CGI/live-action adventure, featuring Parks and Recreation's Ben Schwartz s the voice of the titular character, along with Jim Carrey, James Marsden and Tika Sumpter, could rack up between $68-$70 million over the long holiday weekend, which would be the fourth-largest President's Day opening ever.
Overseas, Sonic brought in an estimated $43 million, for a worldwide tally of around $100 million.
Two of the weekend's other new major releases, Fantasy Island and The Photograph, finished almost neck-and-neck, with the scary Michael Peña, Maggie Q and Lucy Hale-led film adaptation of of the 1970s TV series holding a slight edge with an estimated $12.4 million and $14 million for the three and four-day weekend, respectively. The Photograph, the romantic drama starring Issa Rae and Lakeith Stanfield, collected and estimated 12.27 for the three-day and $13.4 million for the long weekend.
The fourth and final wide release, the Will Ferrell/Julia Louis Dreyfus comedy Downhill, beat expectations, grabbing 10th place with an estimated $4.6 million for the three-day weekend. It's expected to top $5 million over the four-day stretch.
Birds of Prey slipped to second place in its second week of release, grabbing an estimated $17.1 million over the three-day and $19.6 for the four-day weekend.
Bad Boys for Life rounded out the top five, delivering an estimated $11.3 million over three days and $12.8 for the entire holiday weekend.
In limited release, the drama Ordinary Love, starring Liam Neeson and Lesley Manville, earned an estimated $24,874 and $29,999 from three theaters for the three and four-day weekends, respectively.
Here are the top 10 movies Friday through Sunday, with estimated domestic box office earnings:
1. Sonic the Hedgehog, $57 million
2. Birds of Prey, $17.1 million
3. Fantasy Island, $12.4 million
4. The Photograph, $12.27 million
5. Bad Boys for Life, $11.3 million
6. 1917, $8.1 million
7. Jumanji: The Next Level, $6 million
8. Parasite, $5.68 million
9. Dolittle, $4.85 million
10. Downhill, $4.6 million
Copyright © 2020, ABC Audio. All rights reserved.