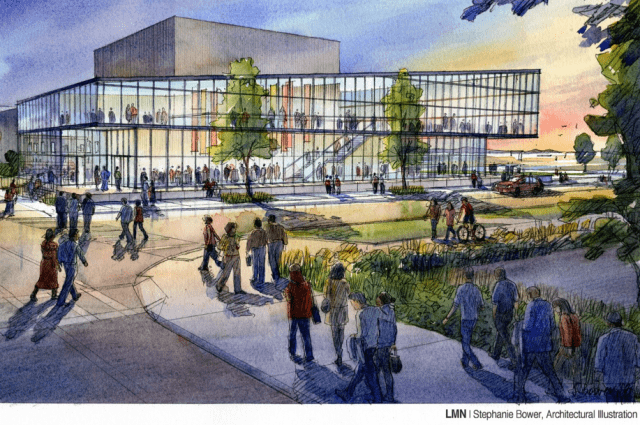 PORT ANGELES – The Port Angeles Waterfront Center has already taken in nearly three-quarters of a million dollars in capital since it's groundbreaking last October. That's including an opportunity fund grant of over five-hundred thousand dollars.
A part of that project is the new arts and events center that is under construction at the corner of Front and Oak Streets.
Jessica Hernandez, Director of Development for the Field Art & Events Hall at the Port Angeles Waterfront Center, gave us the latest status report on the project.
"The construction is underway. In early March, we will be laying the first slab of concrete. Once the concrete work is done, we will go vertical. While the building is totally under construction and underway and everything's on time., the fundraising is going full bore. We have a wonderful board of directors and committees that are helping with the fundraising effort. And so we have about 14 and a half million dollars left to raise. I know that sounds like a really big number. It actually is broken down into a couple of different pots. So we have a very sound plan for getting each of those pots of money to help satisfy the remainder of the fundraising."
A grant from the Clallam County Opportunity Fund of just under $600-thousand dollars, is the latest contribution. The city of Port Angeles wrote the grant for work to be done at the center.
"The opportunity fund grant that the city of Port Angeles wrote it's significant because it's half a million dollars that we had budgeted into fundraising. So that money we don't have to go fundraise for that half a million dollars because the opportunity fund is satisfying that,  so that's really exciting from a fundraising standpoint. The city of Port Angeles were the ones that applied for the fund on our behalf. The opportunity fund monies cannot be applied for by a non-profit."
Another donation for $70-thousand dollars was received from the Port Angeles Soroptimist Club.
When finished, the event center will have a 500-seat capacity and will be named for Donna Morris, who after her death in 2015, left a $9.5 million dollar gift to the community to get the performing arts center underway.