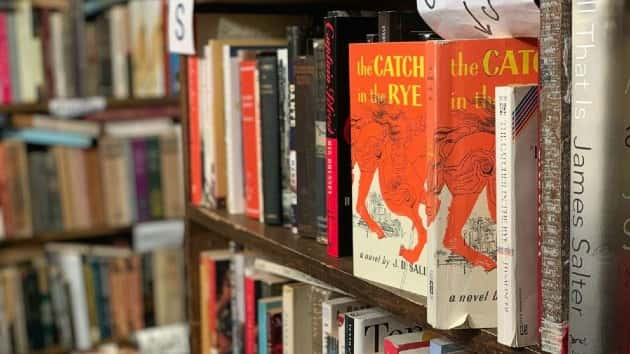 Courtesy Kyle Burk(WASHINGTON) — A customer of Capitol Hill Books in Washington, D.C., recently sparked a creative source of income for the independent bookstore when they requested books via email.
Now, co-owner Kyle Burk says the store has expanded that idea to the whole community.
Here's how it works: Email the store, explain what genre you're interested in and then pay any amount — $25, $50, $100 or more. Then, Capitol Hill Books will ship you a bag of random selections according to your taste. The store sells primarily used books, but usually features a few new titles in-store and also has a rare book inventory online.
So far, more than 150 people have requested their own mystery bag of books.
Burk explained that Capitol Hill Books became an important space as he and his friends worked there part-time on and off for 15 years.
"Two years ago, we bought it," Burk said. "We had that idea in mind for quite awhile. It was a place we would hang out with friends and it became a home."
Burk said that the majority of the store's business comes from foot traffic, especially on the weekend when there's a farmers' market around the corner.
Although Washington, D.C., had not yet shut down nonessential businesses as of Monday, Capitol Hill Books closed its doors to the public more than a week ago and now offers hourly appointments for customers who want to browse. Four people or fewer are welcome during any given appointment, during which an employee will meet everyone at the door with hand sanitizer and gloves. The store was fully booked last week and expects that trend to continue for the week ahead.
Small businesses around the country are learning how to navigate the new normal amid the novel coronavirus, COVID-19, pandemic. Burk encouraged people who want to continue supporting their favorite businesses to simply keep doing so. After all, that's how Capitol Hill Books has remained in business since the early '90s.
"Think about it in a local way," Burk said. "When it's all over, people want their neighborhoods to still have the same things that make them unique. We have to work together to make sure small businesses don't get wiped out, or every neighborhood will start to look the same."
Capitol Hill Books is co-owned by Burk, Aaron Beckwith, Shantanu Malkar and Kate Ritson.
Copyright © 2020, ABC Audio. All rights reserved.