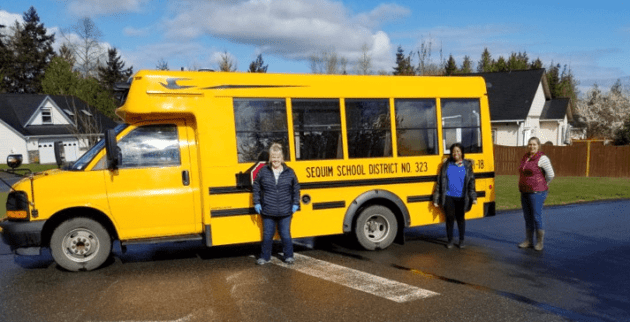 SEQUIM – The Sequim School District has expanded service and relaxed requirements for their free meal service.
They're serving grab-and-go breakfasts and lunches at two school locations, and now they're offering bus route service to several more remote areas in the district.
Available Monday-Friday, meals will be offered through Spring break (April 6). Anyone 18 years old and under can receive meals. No forms or registration are required.
Based on the schedule below, they ask that you arrive early, as each bus will be at the location for 10 minutes only.
Also, please continue to practice social distancing while waiting for the bus and meals to be distributed by staff.
MEAL STOP LOCATIONS AND TIMES
SKYRIDGE GOLF COURSE 9:10
CASINO PARKING LOT 9:15
ROBIN HILL PARK 9:15
N. BARR SOCCER FIELD 9:20
W. NELSON RD & OLYMPIC 9:25
SHERBURNE & ATTERBERRY 9:30
AGNEW GROCERY 9:35
CRITTER COUNTRY 9:40
HOGBACK & CAYS GRAVEL AREA 9:40
R CORNER GROCERY STORE 9:50
GRAVEL AREA AT FISH HATCHERY RD 9:50
VOICE OF AMERICA ENTRANCE 9:55
CONESTOGA RV TRANSIT STOP 10:00
FUEL STATION AT BOTTOM OF TAYLOR CUT OFF 10:05
EAST END OF JOHN WAYNE PARKING LOT 10:10
RIDGEVIEW DRIVE & RIDGE PL 10:10
O'BRIEN RD TRANSIT STOP 10:15
INDEPENDENCE DR 10:25
MARTHA LANE GRAVEL AREA 10:25
SEQUIM LITTLE LEAGUE FIELDS 10:25
BLUE MTN TRANSFER STATION 10:33
DUNGENESS MEADOWS 10:40
HOUSE RD & COTTONWOOD LN 10:45
MANY FEATHERS & WOODCOCK 10:50
DUNGENESS SCHOOL HOUSE 11:05
Meals will continue to be distributed at the following school locations:
• Greywolf front entrance 11:30-12:30pm
• Sequim Middle School side entrance of the cafeteria 11:30-12:30pm
PHOTO: Meredith Arseneau