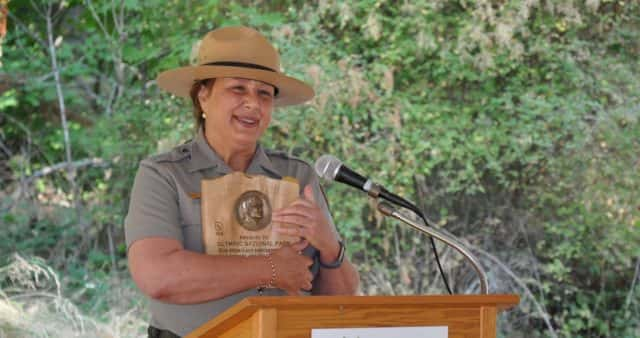 PORT ANGELES – Sarah Creachbaum, Superintendent of Olympic National Park, says she is working on a plan to open some day use facilities on May 5, to coincide with similar openings of state and counties parks announced this week.
Creachbaum, speaking on the phone at Wednesday's COVID briefing at the EOC, said getting the park open on that date is not a sure thing, because it's predicated on being able to outfit employees with personal protective equipment, adequate cleaning supplies and enough enforcement personnel to keep people from over-crowding bathroom facilities.
Creachbaum also addressed a concern brought up earlier by County Health Officer Dr. Allison Berry Unthank. Unthank had said she hoped the Feds would consider opening all of Washington's National Parks at once in order to avoid having throngs of people crowding into one park.
"With each of our parks having those different constraints at different times, it's pretty difficult for us to do an en masse coordinated open. I'm very understanding of situations on the west coast and would like to work very closely with you, Dr. Unthank and the other public health officials. And I think that with the support of our local health officials we'll be able to implement that plan for you pretty effectively."
Creachbaum said she thought it would be possible to open the park incrementally in such a way as to not draw too big of crowds to Clallam County.
"We can start with facilities that we know may not attract a great number of people from King County or other environs all on their own, and do…and service more of the local folks who want to do their daily exercise or go for a day hike. I think we have a lot of opportunities to do this in a sane and reasonable way for us and for you."
(NPS photo)