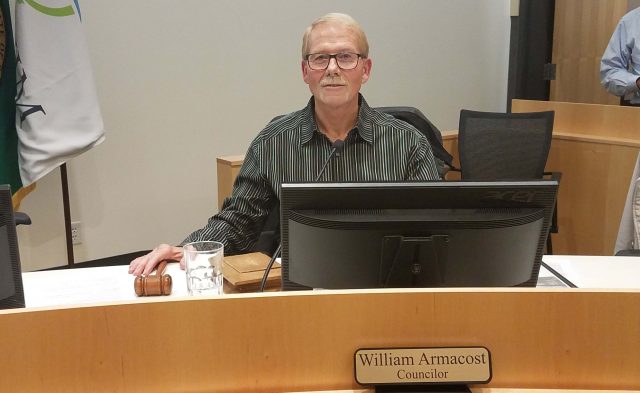 SEQUIM – The Sequim City Council Monday night discussed, for the first time publicly, controversial comments made by Mayor William Armacost at a recent city-sponsored Coffee With the Mayor event in which Armacost expressed his support of the Q-anon conspiracy.
Since that time, Councilmembers and City staff have been inundated by letters and emails from community members, both for and against his comments.
The council meeting began with comments from the public that ranged from supporting the Mayor's right to free speech to calling for his resignation. Council members took up their own discussion at the end of the meeting, beginning with Sarah Kincaid.
"I've read all the emails and I've given them a lot of thought. The first thing that came to mind was they were not complaining about the actions of the mayor, but his personal life. The idea that we have a thought police in Sequim is frightening. One thing I know for certain, true diversity is diversity of thought. The sharing of ideas and opinions is how we learn, how we grow and how we create."
Kincaid was followed by Councilman Brandon Janisse.
"I do have an issue with…not with what he said, but where he said it. That's the issue with me. That if it puts the City of Sequim in a negative light, then there's an issue. Regardless of what his personal views are. He has the absolute right to them, but to say it's part of a city sponsored event…".
One other council member, Tom Ferrell, also weighed in before the meeting was wrapped up for the night.
"I'll start out by saying that I've gotten to know William, not very well, but in every encounter we've had he's been apolitical, non-conspiratorial, the decisions you make on the City Council have been mainstream and reasonable. The one thing I will ask the Mayor and Councillors and, really staff, is when you're in the public and there's a situation that comes up that might be controversial, you know it's going to be controversial, all I asked you to do is remember that it may cause a lot of work on seven members of the council. And as we all have to deal with this. We all are getting behind in other work because of the emails. I can't read them anymore. I have to get back to business. There's 7,860 people in this town and I'm guessing to almost all of them want us to get back to business.".