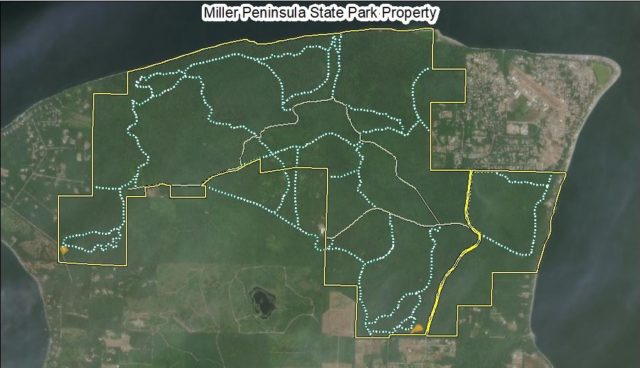 Pepper Fisher
CLALLAM COUNTY – On average, a new state park comes along in Washington only about once every decade or two. So, it's no wonder that Park staff are excited to get the ball rolling on planning the future of Washington's newest state park, located on 2,800 wooded acres just east of Sequim.
Miller Peninsula State Park is currently little more than a web of trails, some with beach access, for hikers, cyclists and horseback riders. But Planning Lead Nikki Fields says it's time for Stage 1 of the process that will determine what the public wants the park to be when it grows up.
"So, it's important for people to know that we haven't made any decisions on this park yet. The only thing we know is that we do want facilities for both day use and for overnight use to be in the park. But where those facilities are, how big they are, the scale of them, or exactly what they are, we haven't determined that. And we would like the public's help in figuring that out."
To that end, the public is invited to help plan for the future of Miller Peninsula State Park (including a possible name change), starting with a virtual meeting on Tuesday, October 6 at 6 p.m. Participants can provide written questions, comments and suggestions during the meeting. After the meeting, additional comments can be shared through the project webpage (click here).
"Within the park itself, we can consider a variety of day use facilities. So, there's trails, there's picnic sites, there could be outdoor or indoor amphitheater kind of spaces. There is a wide range of, kind of, overnight facilities. From primitive camping, which is where you have to hike into your campsite, to tent camping with your car, to RV camping, to cabins, or even something like a small lodge. So we have a variety of options before us and we would love to learn what the public would like."
The park also includes 3 miles of shoreline on the Strait of Juan de Fuca and Discovery Bay.
Comments on the October 6 meeting will be accepted through Oct. 31.
Join the meeting via Microsoft Teams: https://j.mp/32CRZbO