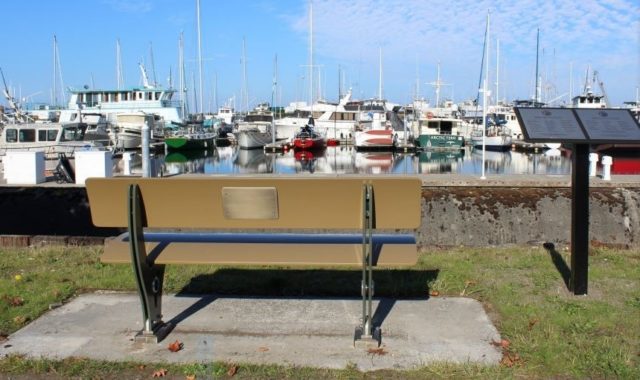 PORT ANGELES – The City of Port Angeles Parks & Recreation Department has begun placing their new, high-tech public benches around town, replacing the weathered benches from the former Memorial & Donation Program, which began in 1991.
The new Adopt-A-Bench Program is available to all and can be placed along the Waterfront Trail, City Pier, Marine Drive, Ediz Hook and other parks and facilities.
As for the old benches and plaques that were removed, they were offered back to the original donors.
To recognize those who  participated in the original Memorial & Donation Program, the City recently purchased and installed three of the carbon fiber benches at three prominent locations, including the Waterfront Trail nearby City Pier; the Waterfront Trail along Marine Drive; and Sail & Paddle Park.
Next to each of the three benches is a metal plaque engraved with the names of those commemorated by the original program.
A statement released Tuesday by the Parks and Rec Department says: "The City thanks the participants of the Memorial & Donation Program and hopes they, their families and loved ones will enjoy these benches for years to come."
(PA Parks & Rec photo)