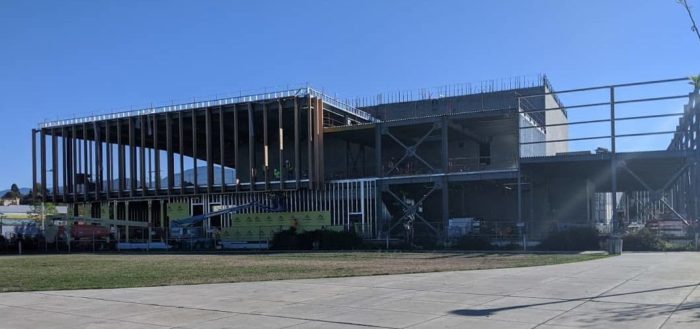 PORT ANGELES — A new performing arts center on the Port Angeles waterfront will take a pause before moving toward an official opening.
Field Arts and Events Hall board President Brooke Taylor told a Port Angeles Chamber of Commerce committee Wednesday, the uncertainties of COVID-19 are behind a decision to adjust the timeline.
Taylor says construction will continue at the facility on the corner of Front and Oak streets through January. After that, crews will pull out and leave a building that will look finished but will not be ready for performances.
"We're going to do that at a point where we reach what they call in the industry the 'shell and core stage'.  And what that basically means is is that the core of the building the basic structure will be completed and it already is and the shell of the building. The exterior will be 100% completed."
Taylor says when construction would restart will be contingent on how the pandemic plays out.
"It will be driven by two factors. One, is our ongoing success in fundraising. And the second is a lot harder to get your hands around and that is, when will it be safe to open a facility like ours and have the grand opening that we've been planning for the last four years. That's going to depend on many many factors all of which are out of our control."
Taylor says all was on track in March this year when the pandemic derailed everything
"Construction had started . We had about 70 percent of the funding we needed. We had a plan that started right after construction, December 1 to April 1, to raise four million dollars in four months. We had raised about 3 million by mid-March and then everything overnight changed in a way that nobody could have expected."
Taylor says industry experts say it could another year and a half before it is considered "safe" to open performing arts centers again.