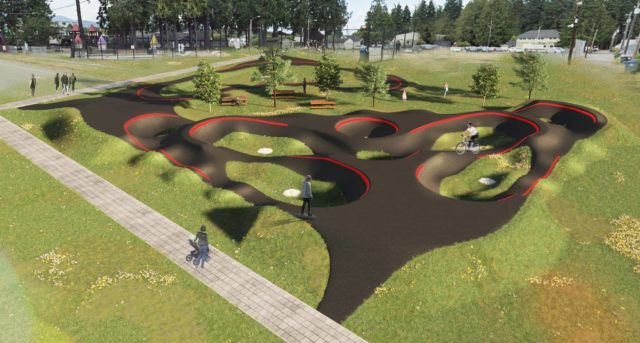 Pepper Fisher
PORT ANGELES – Port Angeles Parks and Recreation is planning a major new facility at Erickson Playfield called a pumptrack. Think of it as a cross between the Lincoln Park BMX track and the skatepark at the playfield.
Pumptracks are designed to accommodate almost anything on wheels, as long as it's people-powered, and feature a large circuit of rollers, bank turns, and bowls designed to be ridden without pedaling: riders generate momentum by up-and-down body movements, or pumping.
The effort is being led by the Parks and Rec Department and a coalition of area bike enthusiasts like Catharine Copass, who just spent her weekend riding pumptracks in other parts of the state.
"Pumptracks are really a growing recreation facility across the country, and especially in our region. I just got home today from a weekend trip to Leavenworth and Wenatchee where I tried the pump tracks in North Bend, Leavenworth and the community pump track in Wenatchee. The more pumptracks they build, it's kind of like Starbucks, the more pumptracks seem to show up. People just get hooked."
Pumptracks are free to use and open year-round. Ours was designed by world-class bike park builders Velosolutions. Construction is tentatively planned for 2021 or 2022, depending on how soon funding comes together.
PA Parks & Rec has applied for a $350,000 state grant for the facility, which Parks Director Corey Delikat says will cost about $600,000 to build.
"It's a State Recreation Conservation Office grant that supports youth athletic facilities. So we were ranked in the top 10 for that grant. So that will bring us a long way towards our total cost for the project, but we will be doing some additional fundraising here over the next few months to get us all the way to the finish line."
Organizers have set up a Facebook page called Port Angeles Pumptrack where you can learn more about the fundraising effort, see a rendering of the planned design, and there's a link to watch a video shot at the Leavenworth track to get a better idea of what's coming.
Photo: Velosolutions design for Port Angeles pumptrack.