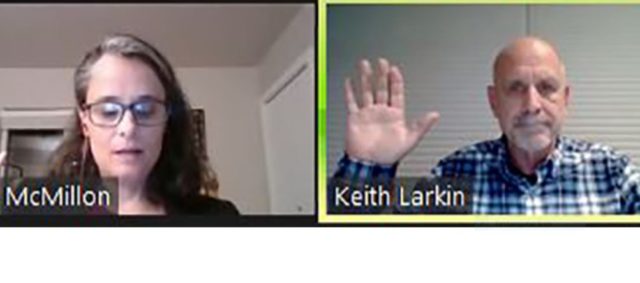 Pepper Fisher
SEQUIM – The Sequim City Council Monday night chose to appoint retired California Fire Chief Keith Larkin, from a field of 6 candidates, to fill the council seat vacated over the summer by Troy Tenneson.
He was immediately sworn into office via Zoom and went to work on the rest of the night's agenda. Larkin says he's got his work cut out for him in getting up to speed.
"I do know I have a little bit of a challenge in ramping up and catching up with all the issues that are being faced with the council right now, especially when they have a budget and all kinds of other things to work on. But it's amazing, I come from the fire service. And so I realized there's a ton of acronyms, you know, in that field. And I could imagine that had people's head swimming when they walked into those types of meetings and we'd all be throwing acronyms around. Well, I'm getting my own taste of it right now, with all the acronyms that are being thrown around in this process, so I've got to catch up on acronyms."
Larkin spent much of his firefighter career in Fresno and Sacramento Counties and has lived in Sequim for about 2 years. His council position will expire on December 31 of next year.
Courtesy photo: City Clerk Sara McMillon swears in Larkin.