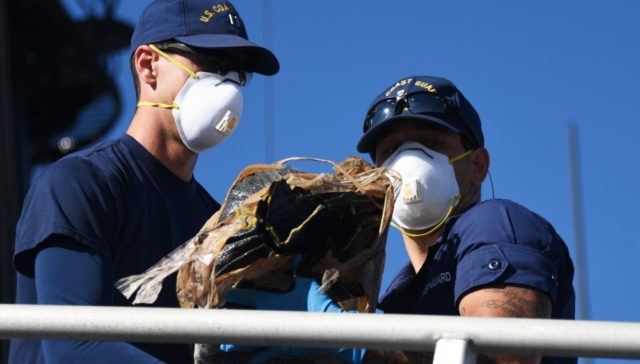 By Pepper Fisher
PORT ANGELES – The Coast Guard Cutter Active returned to its homeport of Port Angeles Friday following a 46-day deployment to the Eastern Pacific Ocean, and unloaded 4,200 kg of cocaine worth $159 million.
The Active's crew patrolled over 10,000 total nautical miles off the coast of Central America, deployed with an armed Coast Guard helicopter crew that specializes in Airborne Use of Force and drug-interdiction missions, helping the Active search for, detect and stop, drug smuggling vessels.
In just 72 hours, the Active crew interdicted two vessels suspected of drug smuggling and detained 13 suspected narcotics traffickers.
Nicknamed "Lil Tough Guy," the Active is a 210-foot medium endurance cutter homeported in Port Angeles and routinely deploys in support of counter-drug, migrant interdiction, fisheries, and search and rescue and homeland security missions.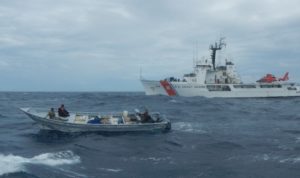 Above: Coast Guard Cutter Active boarding teams prepare to board a panga-style vessel suspected of smuggling drugs in the Eastern Pacific, Dec. 9, 2020.
Banner photo: Coast Guard Cutter Active (WMEC 618) members offload illegal narcotics in San Diego, Dec. 15, 2020. The drugs weighed over 9,000 pounds and were seized in international waters of the Eastern Pacific Ocean in early December. (Coast Guard photos by Petty Officer 3rd Class Alex Gray)