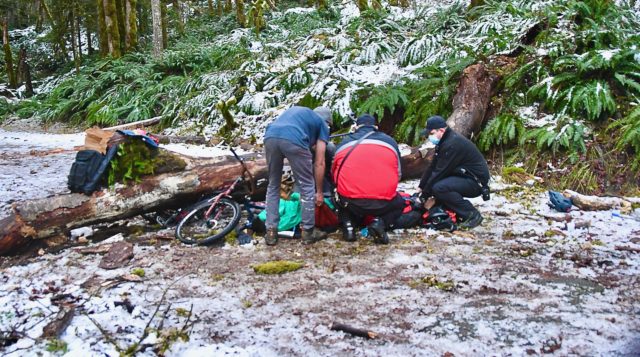 Port Angeles – A man in his 60s was struck by a falling tree Tuesday as he rode his bicycle inside Olympic National Park. His injuries, described by a paramedic as traumatic, were severe enough that rescuers decided the best course of action was to call in a Life Flight helicopter rather than try to move him. Photos provided by Clallam 2 Fire Rescue show the man's bike was crushed beyond repair.
Rescue crews had a tough time getting to the man because he was riding way up Olympic Hot Springs road in the Elwha Valley, well beyond the road washouts that make the area impassable to vehicles.
Park Rangers and a Clallam 2 Fire-Rescue crew hiked a bypass trail to reach the road on the far side of the washouts. Rangers were then able to access an ATV and a pickup truck which are stored on the south side of the washed-out road. Using those vehicles, they found the man, who by then was being assisted by hikers who were passing by, near the Glines Canyon Dam overlook.
The man said he was riding along when he heard a loud crack and was struck by the falling tree, described as about 18 inches in diameter, which fell directly across the victim and his bike.  Fortunately, he wasn't pinned under the tree and was able to get free on his own and had just enough of a cell signal to get a call out to 911.
The man was flown from the scene at 3:30PM and transported to Providence Hospital in Everett.  At this time there is no update on his condition.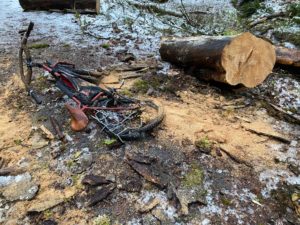 (Clallam 2 Fire-Rescue photos.)