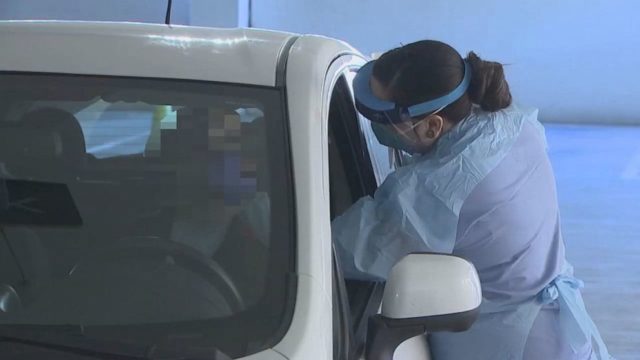 By Pepper Fisher
SEQUIM – We have an update from Undersheriff Ron Cameron on the three vaccination events that happened over the weekend, and the Jamestown S'Klallam Tribe and its partners are going to make some changes to their first-come, first-served program.
First, the numbers. Saturday in Sequim they vaccinated 650 people in 4.5 hours in their second event. Forks hosted similar events on Friday and Saturday and vaccinated more than 500 people total, and in Port Angeles they met their goal of 1000 vaccinations over the weekend. Clallam County leads the state in the number of vaccines delivered to its residents.
As for changes to the Sequim drive-through method, the Tribe's Health Director Brent Simcosky says they originally decided to use the first-come, first served model because, at the time, there were no reliable online sign-up systems in place. But the first 2 events have had people lining up the night before and sleeping in their cars, there are traffic issues, we've heard several reports of people cutting in line, so they've decided to make some changes.
"It's become a safety issue and a traffic hazard. And so we're going to be doing the firstcome, first-served tomorrow, Tuesday, but then we're hoping by Thursday we're going to go to the registration system that Clallam County is using. We're working on that now. It's not set up yet, so nobody can get on it. But we're hoping by Wednesday that we'll have that set up. And what we'll do is three vaccination days at a time. We're going to do 600 a day. So literally, we'll be scheduling 1,800 people a week."
Simcosky says they'll be asking people to pick a 1-hour block of time to arrive, and they're also working on expanding the parking lot situation at the United Methodist Church staging area to get more cars off the street tomorrow.
Simcosky believes the Tribe will continue to acquire a large number of doses from the federal government, but he admits to being a little frustrated about supply chain issues.
"Right. Now the problem with the vaccine is that I make an order on Tuesday at five o'clock for the next week, and I will not know if it has shipped until Sunday night. We've been having people at the state and national level ask us, and one thing we've been telling them is to stop wringing your hands over trying to figure out who to vaccinate and what group and what age and just worry about ramping up vaccine production."
Bottom line, everyone involved in getting shots into arms is learning and adapting on the fly but, here in Clallam County, we're way ahead of the curve.
Stay tuned for more information on how, when and where Sequim-area folks can sign up online for their vaccinations.