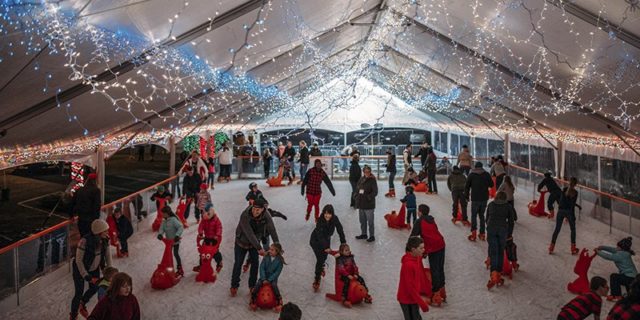 By Pepper Fisher and Amanda Bacon
PORT ANGELES – The Port Angeles Chamber of Commerce has announced that the Winter Ice Village, cancelled this winter due to Covid restrictions, will be opening for one month starting on the last day of winter, March 19.
Chamber Director Marc Abshire dropped by KONP for a chat with Amanda Bacon on Thursday. He says the Village will be in the same location downtown on Front Street, but it won't look quite the same this year.
"It'll look a little different because we're not doing all the big holiday decoration stuff that we normally do. So one of the things is different, you know, that we're kind of realizing is that normally when we do it in December-ish, it gets dark by 4:30 or 5:00. So those holiday lights really make a difference. But in first part of April, end of March, it's light until, I don't know, eight o'clock or something. So the lights aren't going to be as big of a factor actually, so it's going to be a little bit less expensive actually for us to run it because we expect the electrical bill be lower."
Organizers are still planning to be open from 9-to-9 every day. As before, they're still looking for sponsors, donations and of course, volunteers.
"The whole thing is run by volunteers, which is what makes it possible, you know, and so we will have a sign-up available for folks to sign up to volunteer. If you volunteer for a shift you get a free skate session. And then also, because we're anticipating a little bit lower expenses, we're going to have actually $5 skate sessions this year. We'll have $15 skate sessions as well, but it's going to be based mostly on popular times and less popular times."
Find out more by logging on to wintericevillage.org.
(Chamber of Commerce photo)