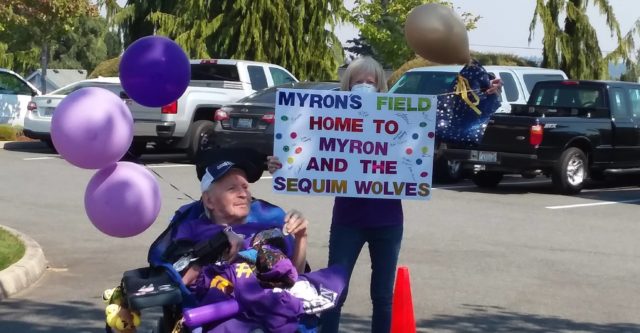 By Pepper Fisher
SEQUIM – The organizers of a grassroots effort to name Sequim High School's football field after Myron Tetrud, a life-long supporter of the school's athletic programs, finally got the chance to make their case before the School Board last Monday.
Sadly, Myron Tetrud passed away on Thursday, just 3 days later.
No decision was made, but supporters will have another chance to present their views in person  Monday night at 6:00.
The Sequim Schools Alumni Association began the campaign to officially name the facility Myron's Field last year. Despite hundreds of signatures gathered, many of them from life-long residents who had known the 81-year-old their whole lives, the School Board declined to consider the motion until they could meet in person again when Covid restrictions were relaxed. In-person meetings began on April 26.
One of the most ardent advocates for the Myron's Field campaign is Phyllis Meyer. She was one of the supporters who were given 3 minutes to make their cases before the Board.
"The problem is they just don't get it, and for us to try and explain Myron in 10 minutes, to get the full story, you know, it's just not going to be easy to do to try and convince these people. You know, if they like Sequim so much to move here, well then get to know Sequim. You know, we're still going with our motto, 'If you don't know Myron, you don't know Sequim'. And I'm sticking to that."
School Board President Brandino Gibson told us that, as far as the Board is concerned, the first presentation of the idea was at last Monday's meeting during the public comments period. He says that prompted them to add it to tonight's agenda for discussion.
"You know, they brought it to our attention on Monday and we're putting it on the agenda. So I don't want to speak specifically for the Board because I don't know where anybody stands. That's why it's on our agenda for Monday."
Meyer says she spoke with former School Superintendent Rob Clark about the matter as well as current Superintendent Jayne Pryne. She says they told her that naming the field after Myron would require a change in District policy.
"Because they do not have a procedure to name a facility, only procedures for naming new buildings. And then they said, you know, 'It's usually for Hall of Famers'. Well, I'm thinking, Helen Haller was not a Hall of Famer. She was just their Principal. Rick Kaps, who the gymnasium is named after, was not a Hall of Famer. In fact, he didn't even win the state championship. He only came in second, when they named the whole gym after him."
No decision on the matter by the Board is expected at Monday night's meeting.
(Photo: Phyllis Meyer visits Myron in 2020.)