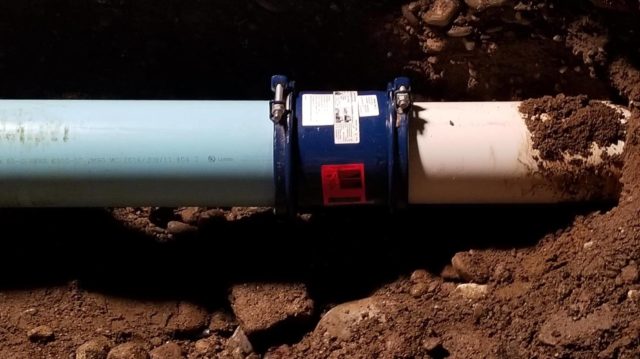 By Pepper Fisher
SEQUIM – Saturday morning's water main break under N. 7th Avenue in Sequim was the last straw for the Public Works Department.
It wasn't the first time they've had trouble with the old pipe in that area, so the plan is to tear out the four-block section between Fir and Spruce Streets and replace it before the end of the year.
Public Works Director Matt Klontz says that section just became a top priority.
"It's urgent. Our last break prior to the one that we had on Saturday was in April of 2020. So that's kind of close in terms of frequency. So I'm concerned, our maintenance department is concerned. I know our water operators are concerned. You know, with each of these breaks there's a significant amount of water that's lost from the reservoir. So, from that standpoint, it's a priority to get the replacement done."
Klontz says it's a little early yet to know what the exact timing and cost will be, but they're working on it.
He says the problem is not necessarily the kind of PVC they used in the past, but the way they installed it.
"The thing with this particular section of water main is that the native material is compacted immediately up against the water main. And in Sequim, native material includes these large, oversized boulders, we call them Sequim potato. And really, that's probably at the heart of why this particular main is breaking. Normally, you would bed the material. In other words, you'd put like an envelope of smaller-sized material around the water main, and that helps to protect the water main."
Klontz says when the trench work begins, they should be able to keep one lane open as crews work.
(Photo: Recently repaired water main surrounded by "Sequim potatoes")