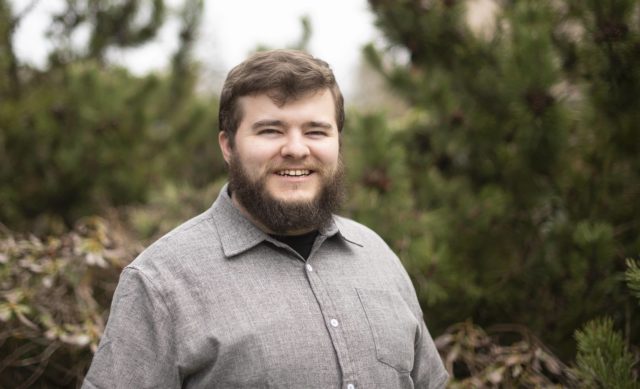 By Pepper Fisher
PORT ANGELES – Former newspaper reporter and code enforcement officer Jesse Major knows first-hand many of the issues Clallam County is facing, and he's asking voters to give him the chance to take them on.
On Friday, Major announced his candidacy for Director of the Department of Community Development (DCD), an office with broad responsibilities to oversee the County's comprehensive planning, zoning, processing of building permits, and the very high-profile issue of code enforcement. Major left his job as a reporter at the Peninsula Daily News in 2020 to work as a code enforcement officer for Clallam County. By the summer of 2021, he and every other code enforcement officer had moved on to other jobs. Some were frustrated by, among other things, an inability to do their jobs effectively and in a timely manner.
"Code enforcement is one of the bigger challenges we are facing, and I think what we need to do is really prioritize the toughest properties we have. We just haven't had a fully established program that has prioritized going after the worst cases in the county, and the only way to do that is to cooperate and to work well with other departments in the county, including the Commissioners, the Sheriff's Office, Health Department. We really all have to address these issues."
About a year ago, County Commissioners, recognizing some of the issues in the department, were floating the idea of dividing up some of the responsibilities of the DCD to better address the problems. The subject hasn't come again since then, but Major says he would not be in favor of such a move.
"But we definitely do have all the tools in place to be able to tackle these issues. I don't think we need to change the responsibilities of DCD. We just need a department that will work with the other departments in the county."
Another important issue to Major is the upcoming review of the County's comprehensive plan.
"The County's comprehensive plan is due for a review in 2025. That is really an opportunity for us to create a plan that will help guide policy to make Clallam County the place we want it to be. And part of that process should be really robust public input, so that the citizens have a say in the direction this county is heading. So that's one thing I would like to do is really have a very strong public process."
Current DCD Director Mary Ellen Winborn has indicated she will not seek reelection.
Find out more about Jesse Major's run for Director of the Department of Community Development at jessemajor.com.