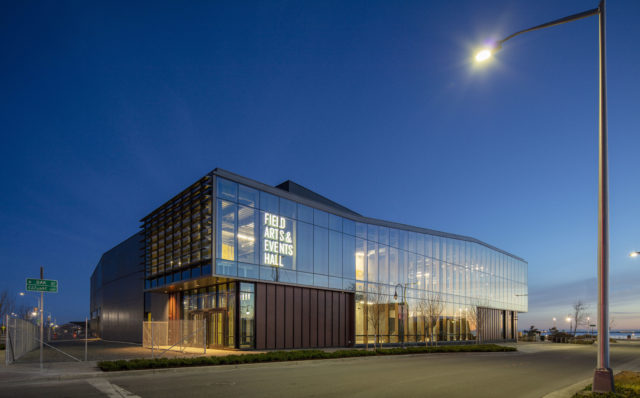 By Pepper Fisher
PORT ANGELES – Field Arts & Events Hall, set to open in July on the Port Angeles waterfront, just got another big shot in the arm in the form of a $1 million grant from the M.J. Murdock Charitable Trust of Vancouver, Washington.
The total projected building cost for Field Arts & Events Hall is $56 million. This latest endowment gets the current capital campaign to within $8 million.
Executive Director Steve Raider-Ginsburg says they've secured a $10 million line of credit with First Fed to cover any temporary shortfalls, but a grant of this size will help keep any borrowing to a minimum.
That's not to say getting a grant of this size from the Murdock Foundation is an easy thing.
"Absolutely. Yeah. Field Hall does not want to open taking a huge amount out of a loan, and we want to get this project finished as quickly as possible so we can all start enjoying Field Hall. So Murdock, being one of the most thoroughly difficult organizations, in a good way, you know, they look through everything, they did multiple site visits, many phone calls, and we made it through, and we secured a million dollars."
Field Hall will host local, regional, national and international music and performance artists in its 500-seat theater. The venue also includes a cutting-edge conference and event center overlooking the harbor for groups of 20 to 400 people.
They have set the date to celebrate the Grand Opening for the weekend of July 29-30, and Raider-Ginsburg says the final touches on the inside are coming into place.
"Yeah, the word we say now is, "finishing". Two huge projects are happening. One is, something called the tension grid, which is on stage, above the stage, we have a grid that you can hang lights from. That's going in this week. And we have some of our large glass doors that are coming in. Part of the beauty of Field Hall is that, through the glass, you can see the mountains and the water, and it makes the place look all shiny and sparkly."
For more information, please visit fieldhallevents.org