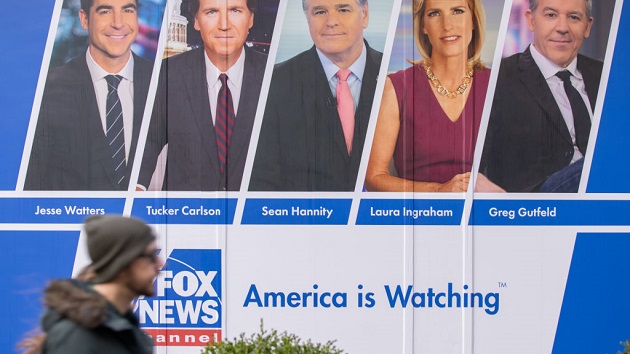 (NEW YORK) — An attorney for Dominion Voting Systems accused Fox News on Wednesday of improperly redacting internal materials that the network was forced to hand over as part of Dominion's billion-dollar defamation suit against it.
"They're essentially redacting embarrassing information," attorney Davida Brook told the judge hearing the case.
The claim came during a pivotal summary judgment hearing in which each side has asked the judge to rule in their favor before the case is set to head to trial next month.
Dominion's $1.6 billion suit accuses Fox News of knowingly pushing false conspiracy theories about the voting machine company in the wake of the 2020 election, in order to combat concerns over ratings and viewer retention.
In February and March, Dominion filed bombshell findings from the discovery process containing a trove of emails, texts, testimony, and other private communications from some of Fox's biggest stars and executives, privately bashing Trump and his election fraud claims while they continued to broadcast them on air.
"I did not believe it for one second," said Sean Hannity in regard to one of Trump's attorney's claims, according to one of Dominion's filings.
An attorney for Fox defended Fox's redactions and pointed to the hundreds of communications that have already been entered into the public record.
"I don't think there any lack of public access here," the attorney, Katharine L. Mowery, said.
Earlier this month, Dominion filed a motion with the judge pushing back on some of Fox's redactions, calling them "not warranted."
"Dominion does not challenge Fox's decision to redact contact information such as phone numbers and emails provided," the filing states. "As for Fox's substantive redactions … Dominion hereby brings this notice of challenge to the confidential treatment of these redacted briefs, certifications, affidavits, exhibits, declarations, and appendices."
In its own filing, Fox said "almost all" relevant materials had been unsealed "after a careful redaction process consistent with Court rules and Delaware law."
"Throughout three rounds of briefing, Dominion jammed the record with 700 exhibits, many of which were personal text messages between Fox employees with no connection to any of the challenged broadcast or statements," Fox wrote in its filing. "On top of this, Dominion attached other internal Fox communications — often inflammatory and headline-grabbing, but irrelevant to any issue in dispute."
After the hearing, a Fox spokesperson said in a statement, "Despite the noise and confusion that Dominion has generated by presenting cherry-picked quotes without context, this case is ultimately about the First Amendment protections of the media's absolute need to cover the news. FOX will continue to fiercely advocate for the rights of free speech and a free press."
The judge overseeing the case, Eric Davis, said his ruling on the summary judgment motions would come later in writing.
Copyright © 2023, ABC Audio. All rights reserved.