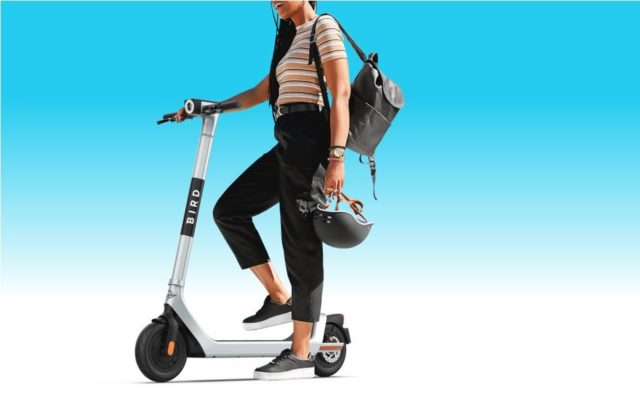 By Pepper Fisher
PORT ANGELES – Bird e-scooters are coming to Port Angeles this spring, but not to Sequim. That's according to a company spokesperson who contacted KONP late last week.
Campbell Millum responded via email to our inquiries. It reads, in part; "…we will be beginning operations in Port Angeles and hope to be able to bring scooters to Sequim in the future…we are so grateful to the policymakers and riders who have been supportive of the program. As we get ready to bring scooters to the streets, we are…seeking on-the-ground partners to manage the logistics of the program, and learning more about how we can help meet Port Angeles' needs. Riders can download the Bird app to be ready for their first ride, and those interested in partnering with us can visit our website to learn more."
In other words, they're still looking for a Fleet Manager. According to their website, fleet managers are self-employed and run the day-to-day operations of collecting, maintaining, recharging and storing the scooters 7 days a week. It says prospective candidates will need access to a warehouse, a large vehicle to carry the scooters, and experience running a business.
Bird's Dylan Skolnik told us in an email on March 20 they were "looking for a local partner with the space and time available to manage a fleet of 50-75+ scooters to help us launch and operate Bird in Port Angeles and Sequim."
When we forwarded this latest email to Port Angeles City Manager Nathan West, who said the announcement was news to him. He replied, "We have not heard from Bird Scooter since August 2022. At that time, they were still in the process of sourcing a Fleet Manager to maintain the scooters. In addition, Bird Scooter let the City know that they would be holding off on a program launch until spring to avoid a shortened season caused by winter weather.
We asked West what kind of prep work the City would have to do in advance of Bird showing up with scooters. He wrote, "As far as prep work, an ordinance was adopted by Council on August 16, 2022, amending Chapter 10.24 of the Port Angeles Municipal Code relating to Motorized Foot Scooters and Similar Devices. All other necessary City related steps have been executed for this temporary pilot program with Bird.
We are excited about the possibility of an e-scooter share program and are hopeful that this pilot will launch soon."
The Sequim City Council also authorized a pilot program to begin this spring, but City Manager Matt Huish told us in February they had not heard from the company since last fall.