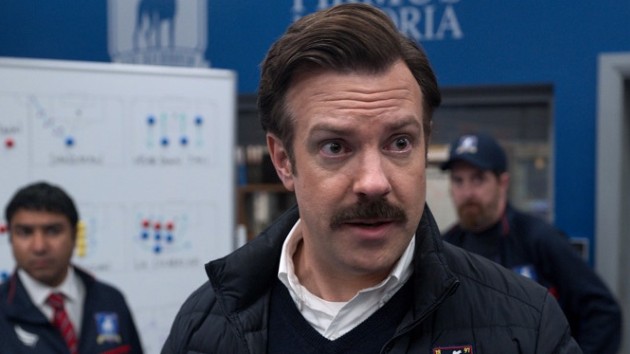 On a new episode of Hot Ones, Ted Lasso Emmy winner Jason Sudeikis broke down his career, his inspiration for the shades-wearing soccer, er, football coach, and what he felt about Saturday Night Live — before he was on it.
As is the show's requirement, he did so while eating a selection of increasingly spicy wings.
Sudeikis didn't shy away from the accusation he used to "hate" on the show, particularly when he learned that eventual SNL writer-turned-Better Call Saul star Bob Odenkirk also admitted to it. "I take pride in that," Jason told host Sean Evans. "I love that dude."
"Metaphorically it feels like that girl in school that you have a crush on that you hate on until you realize that … she was asking about you,'" he said with a laugh. "It was a little bit of that youthful ignorance and arrogance."
He added, "They would never let me play football at Notre Dame, I would never get to play basketball at KU, so how would I ever get to work on Saturday Night Live?" he recalled thinking.
"So yeah, let's hate on it."
He confesses, "It wasn't so much hating on it, 'cause I had heroes on that show. I had friends on that show at the time. I had a specific reason that I tried to articulate why, but I think deep down inside, I was just protecting myself from the possibility of not achieving something that 'boy oh boy wouldn't it be neat if I did.'"
Of course, Sudeikis eventually got hired on SNL, first as a writer in 2003, then as a cast member from 2005 to 2013.
Oh, and he also defeated all 10 wings.
Copyright © 2023, ABC Audio. All rights reserved.