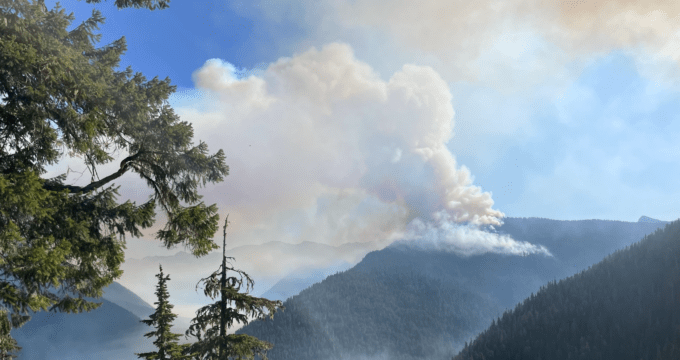 PORT ANGELES – Fires burning in Olympic National Park expanded this weekend, but by yesterday officials say they had stopped their growth.
ONP officials say fire activity was lower yesterday due to overcast skies and higher humidity.  The largest fire now is the Delabarre Fire, it is at about 1,500 acres. But low visibility and low-lying smoke made it difficult for fire personnel to identify the exact perimeter of the fire. Another flight today is expected to give more accurate mapping.
Fire personnel continued to work in the 274-acre Low Divide area; firefighters have created a defensible space around the Glacier Creek Bridge and installed sprinklers to help protect the bridge and the Low Divide Ranger Station. The Low Divide Fire continues to burn but it has not yet crossed the North Fork Quinault River.  
The 123-acre Eagle Point Fire near Hurricane Ridge is in a confine-and-contain strategy and was mostly inactive yesterday.  
There are seven fires burning in the park, all sparked by lightning strikes in late August.
Smoke conditions improved across the north Olympic Peninsula as quieter fire conditions generated less smoke.