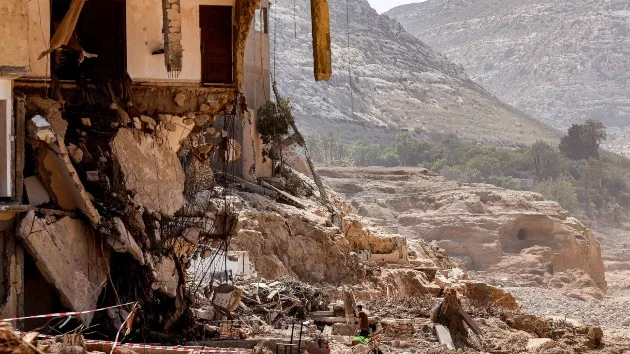 (NEW YORK) — The United Nations has revised its death toll from disastrous floods in eastern Libya after conflicting information from different government officials and aid agencies — a sign of the chaotic response on the ground in a divided country.
As of Monday evening, the U.N. Office for the Coordination of Humanitarian Affairs said the number of fatalities was 3,958 and that more than 9,000 people remain missing.
The Libyan Red Crescent previously reported that 11,300 people had died from the flooding in eastern Libya, and the U.N. was originally using that figure but changed course on Sunday to instead go with the World Health Organization's estimate of 3,958 deaths.
The International Committee of the Red Cross said it was difficult to provide an exact tally of casualties.
"We don't want to speculate about the numbers," ICRC spokesperson Bashir Saleh told ABC News on Monday. "We don't have the final figures. I think we need to wait for the rescue operations to end and then we would have the final figures."
Eastern Libya's Health Minister Othman Abduljaleel said at least 3,283 bodies were buried as of Sunday night without specifying how many had been recovered in total. He said the death toll was "on the rise every day" and that "many bodies remain in the sea or under the rubble."
The death toll has been a moving target since Mediterranean storm Daniel pummelled Libya on Sept. 10, triggering widespread flooding that broke dams and swept away entire neighborhoods along the coast in the east of the North African nation. Rescuers have been working to understand the full scope of the devastation ever since, but their efforts have been hindered by the country's current political situation.
Libya has lacked a central government since 2011, when an Arab Spring uprising backed by NATO toppled longtime dictator Moammar Gadhafi, who was later killed. The oil-rich nation is now split between two warring governments — one in the east and the other in the west, with each backed by various militias.
The head of the U.N.'s World Meteorological Organization, Petteri Taalas, said last Thursday that most of the flooding casualties could have been avoided if Libya had a functioning meteorological service.
Hundreds of people took part in a protest at a mosque in flood-stricken Derna on Monday, demanding that local authorities be held accountable. The northeastern port city was the worst affected and has been declared a disaster zone.
Copyright © 2023, ABC Audio. All rights reserved.