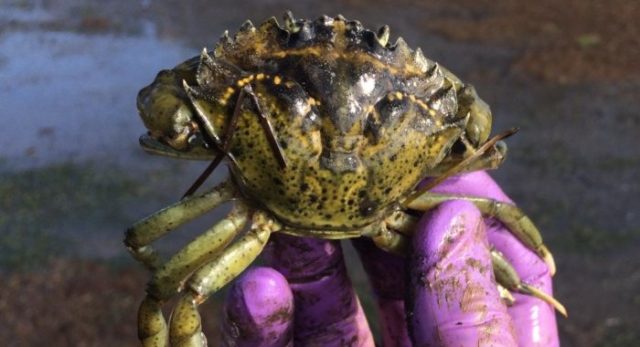 PORT ANGELES – In late October, the Washington Department of Fish and Wildlife received a report from the Coastal Watershed Institute (CWI) of a European green crab at Salt Creek Recreation Area in Clallam County on the Strait of Juan de Fuca.
Within days of the report, WDFW worked with the county to gain access to the area and set traps for the invasive species, catching three additional crabs between Oct. 24 and 26.
Justin Bush from Fish and Wildlife said this incident illustrates how important reports of suspected European green crabs are for managing the problem, which has become a serious issue in Grays Harbor and other counties, but has so far remained under control in Clallam County.
A team of CWI staff, interns, and volunteers collected the adult European green crab on Oct. 20 in the lower Salt Creek estuary while working on another project.
Dr. Anne Shaffer, CWI executive director and lead scientist, said they've been doing studies at the site since the early 2000s and this is the first time they've observed green crab there.
The Dept. of Fish and Wildlife say they plan to continue trapping in the spring in coordination with the county and local tribes and partners.
The European green crab is a damaging invasive species that threatens native shellfish, eelgrass, and estuary habitat critical for salmon and many other species. They are shore crabs found in shallow areas—typically less than 25 feet of water—including estuaries, mudflats, and beaches.