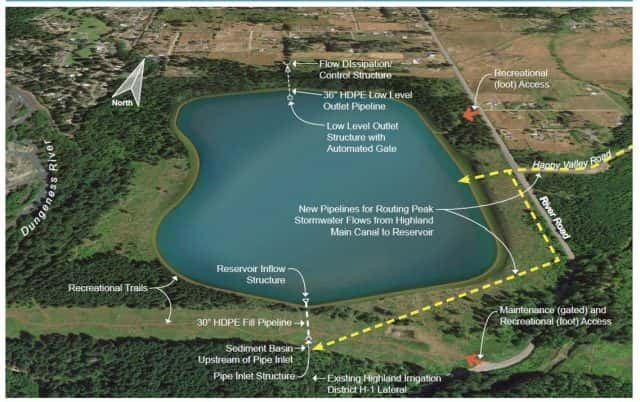 CLALLAM COUNTY – Good news is in for advocates of a planned Dungeness River off-channel reservoir. A new bill passed in Olympia that will make $300,000,000 available for stream flow restoration projects, grant money that will be awarded through the Department of Ecology.
To build the reservoir, which would be used to recharge local aquifers during the dry months of the year, the land must first be purchased from the Department of Natural Resources for an estimated 2.5 million dollars.
A group of partners, including Clallam County, Jamestown S'klallam Tribe, City of Sequim, Valley Irrigators and Washington Water Trust, will begin applying for that grant.
That application will be part of a two-pronged approach that will include applying for transfer of the land from the State to Clallam County, something they tried last year but failed to make the final cut.
While nothing is certain, Sequim Public Works Director David Garlington is optimistic about their odds.
Plans for the 88 acre reservoir include an adjacent 320 acre Public County Park.
There's an informative 7-minute video at washingtonwatertrust.org.