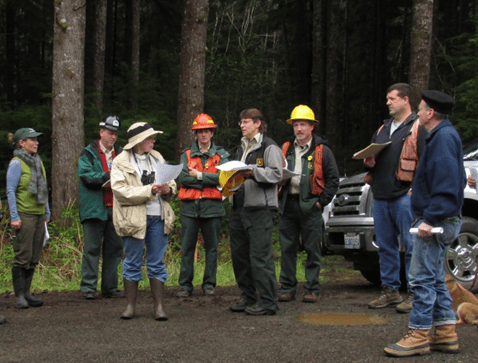 FORKS – Congressman Derek Kilmer was in Clallam County earlier this month to get an update on projects being carried out by the Olympic Forest Collaborative, which brings representatives from both the timber industry and conservation groups together to find ways to work together and avoid litigation often associated with timber harvest.
Kilmer was in the Sol Duc watershed area to get a look at the first project to be completed by the group, which combined timber harvest and habitat enhancement.
Sierra Pacific harvested the timber, and worked with the conservation group Olympic Forest Coalition, to see that it was done so as to preserve and even improve habitat features.
The project is in County Commissioner Bill Peach's District 3, so we checked in with him to see what he thought of the program.
Both Congressman Kilmer and Commissioner Peach also tipped their hats to Representatives Chapman and Tharinger for the work they've done to help the program along.