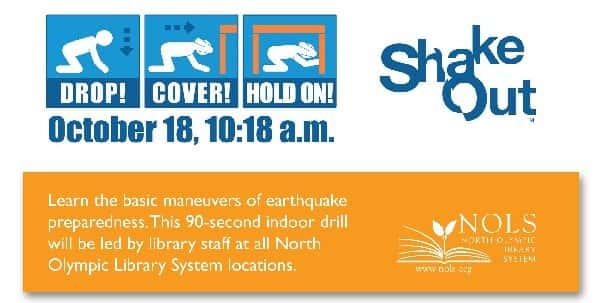 CLALLAM COUNTY – If there's ever a time to think about earthquake preparedness, this coming Thursday, October 18 would have to be it. The Great Washington ShakeOut is at 10:18 AM on 10/18, part of the largest earthquake drill in the world, attracting more than 58 million registered participants. Registration isn't required, but if you or your organization want to be counted, go to shakeout.org/Washington.
Preparedness experts are urging residents to take stock of their emergency supplies, especially what they would do about water if they were suddenly without power or access to a grocery store for two weeks.
For the first time, all of the coastal sirens in Washington state will be tested on Oct. 18 at 10:18 a.m. using the real sound of the siren, not the Westminster Chimes that typically happen during the monthly tests. Also for the first time, state law has been changed, requiring a mandatory tsunami evacuation drill for schools in mapped inundation areas.
In addition, every library in the North Olympic Library System will lead drills at 10:18 to "Drop, cover, and hold on"
under a desk or sturdy table for the 90-second drill.
Library Manager Theresa Tetreau:
Originating in California in 2008, the annual drill is now a globe-spanning event with most participants performing the drill on the same day, at the same time.