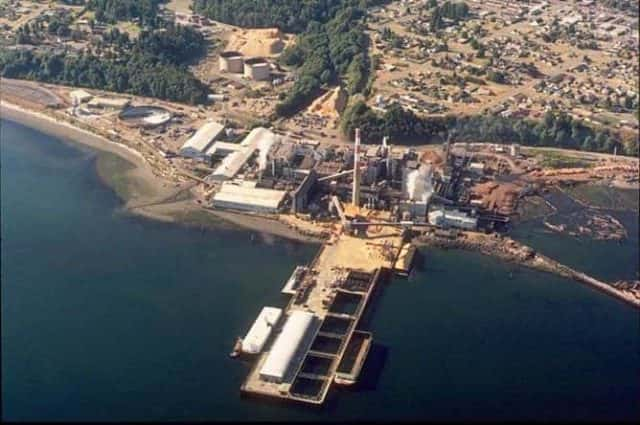 PORT ANGELES – After 22 years, the first stages of an eventual clean-up and restoration project will begin this month at the old Rayonier Mill site at the east end of Port Angeles Harbor.
Residents may see barges and heavy equipment on the site, part of an initial field survey that will set the stage for the removal of the dock and jetty, and clean-up of contaminated sediment below and above the shoreline.
The work is a collaboration between the state Department of Ecology (Ecology), the state Department of Natural Resources (DNR) and Rayonier Advanced Materials. Rayonier still holds the lease on the property, but shut down their pulp mill in 1997. Outdated methods of production resulted in the contamination of soil and sediments on the site.
We asked Rebecca Lawson, a Toxics Cleanup Program Manager at Ecology, to give us a sense of the cleanup process and timeline.
Lawson added that within the next couple of weeks they will announce a public comment period and release more information on the cleanup project before going forward.
Learn more about the Rayonier cleanup project at Ecology's website by clicking here.
Photo: Rayonier mill in it's heyday.